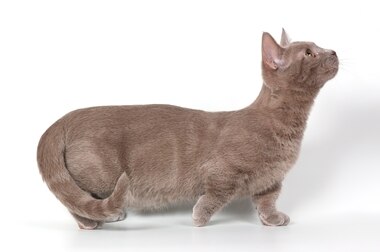 By Dr. Fiona, a veterinarian and writer for Pets Best, a dog insurance and cat insurance agency.
About the Munchkin
Weight:  Females 4-8 lb, Males 6-10lb
Points of conformation: The limbs are shortened and slightly bowed and thick.  The wrist may turn outward due to forearm shortening.  Medium length body with long tapered tail and compact feet.  They have a slightly waddling gait.
Coat: Medium and semi-long haired varieties exist.  Plush texture with minimal to silky fine under coat.
Color: All colors and patterns are accepted.
Grooming needs: Minimal grooming needs, weekly brushing.
Origin: Louisiana, United States
Behavior Traits: Playful and curious
Is a Munchkin cat right for You?
The munchkin cat is not well-suited to an outdoor lifestyle due to it's shortened limbs.  They get along well with other pets and dogs.  They tend to keep their kitten-like tendencies well into adulthood.
Common Illnesses, Medical Conditions and Accidents for the Munchkin
According to the number of cat insurance claims Pets Best receives
| | |
| --- | --- |
| Medical Issue  | Expensive Claim  |
|  Inflammatory Bowel Disease |  $38 |
|  Constipation – undiagnosed |  $386 |
|  Vomiting – undiagnosed |  $1,006 |
|  Toxicity |  $1,031 |
Protect Your Munchkin Cat with Pet Health Insurance!
Get a Quick, Free Quote Online
or Call Pets Best at 877-738-7237