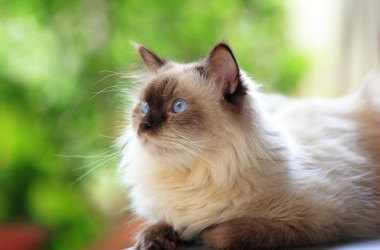 By Dr. Fiona, a veterinarian and writer for Pets Best, a dog insurance and cat insurance agency.
About the Himalayan
Weight: 8-15 lb
Points of conformation:  Similar to the Persian with large round head, short upturned nose and solid body.
Coat:  Thick and silky hair coat that is plush without being wooly. Same as the Persian.
Color: Siamese points are the breed standard. Any color of pointing is accepted.
Grooming needs: High grooming needs, with daily or even twice daily brushing required especially when shedding.  Face needs to be regularly cleaned as well.
Origin: Europe.
Behavior Traits: Outgoing and affectionate.
Is a Himalayan cat right for You?
The Himalayan cat is adaptable and gets along well with children and other pets.  It has a quiet voice and a calm demeanor.
Common Illnesses, Medical Conditions and Accidents for the Himalayan 
According to the number of cat insurance claims Pets Best receives
| | | |
| --- | --- | --- |
| Medical Issue  | Average Claim Amount  | Expensive Claim  |
|  Kidney Failure – Chronic |  $1,394 |  $4,337 |
|  Ear Infection |  $172 |  $406 |
|  Skin Allergies |  $472 |  $1,684 |
|  Cystitis |  $396 |  $779 |
Protect Your Himalayan with Pet Insurance

Get a Quick, Free Quote Online
or Call Pets Best at 877-738-7237