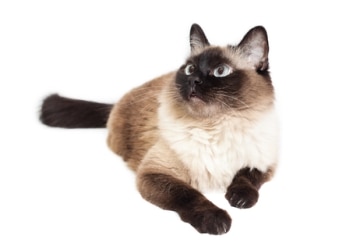 Dr. Fiona is a veterinarian and writer for Pets Best, a dog insurance and cat insurance agency.
About the Balinese
Weight: 6-11 lb
Points of conformation: Angular body with large ears and head is elongated and tapered to a fine muzzle and long straight nose. Delicate paws and thin tapered tail.
Coat: Semi-long single layered, fine, and silky.
Color: Dark face mask, blue, chocolate, lilac and seal point colors are recognized.
Grooming needs: Low to moderate with a low matting tendency.
Origin: California and New York in the 1950s
Behavior Traits: Highly intelligent, bordering on aloof.
Is a Balinese cat right for You?
This breed was originally called a long-haired Siamese before they were recognized as their own breed, therefore they share a lot of the same breed characteristics as the Siamese.  They tend to be less vocal and more soft-voiced than Siamese, and they also are slightly less active and are content to be a lap cat.  They are highly social and aren't well-suited to an outdoor lifestyle.
Common Illnesses, Medical Conditions and Accidents for the Balinese
According to the number of cat insurance claims Pets Best receives
| | | |
| --- | --- | --- |
| Medical Issue  | Average Claim Amount  | Most Expensive Claim  |
| Skin Allergies | $371 | $371 |
| Ear Infection | $91 | $91 |
| Renal Failure | $321 | $471 |
| Urinary Tract Infection | $627 | $1,272 |
| Oral Resorptive Lesions | $1,232 | $1,232 |
Protect Your Balinese with Pet Insurance

Get a Quick, Free Quote Online
or Call Pets Best at 877-738-7237