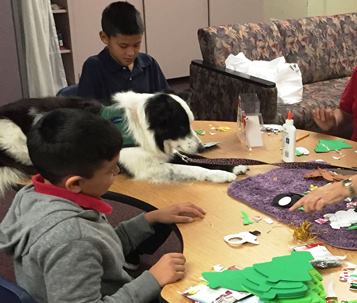 Kiss and Gracie: Lifting the Spirits of Special Needs Students
Pets Best is pleased to announce our eight finalists in the 3rd Annual 2016 Books & Barks Contest. In 2014, Pets Best created the contest to recognize and bring awareness to the inspirational work of therapy dogs in classrooms and libraries across the nation. These incredible dogs make a positive impact in the lives of children on a daily basis.
Meet caring therapy dogs, Kiss and Gracie, who work at Adams Elementary School in Santa Ana, Calif. Kiss is a 7-year-old Collie and Gracie is a 12-year-old Yorkshire Terrier. Kiss became a certified therapy dog in 2010 and Gracie was certified in 2007.
Mark Hunter, a teacher at Adams Elementary School, works with students who have high functioning autism, behavioral challenges, and other special needs. The program at their school is unique and relatively new – they are in the second year of their pilot program. Adams Elementary is the only school in the district that houses these special needs students. They started with one class in 2008 and now have three classes that service approximately 25 students.
Most of Mark's students have extreme anxiety and anger issues and were placed in multiple school programs due to their dangerous behavior. Often the home life for these students is unpredictable and chaotic. The school environment is often the only safe and consistent place for his students.
The therapy dog reading program has resulted in significant positive changes for his special needs students, especially with their emotional and social skills. He has witnessed many amazing breakthroughs. Now his students are engaged, excited, and eager to read with the dogs and truly enjoy their time with Kiss and Gracie.
"These therapy dogs offer a unique opportunity for our students to feel that sense of calm that most of us take for granted.  It is simply magical to watch the anxiety and frustration simply melt away when the students are in the presence of these therapy dogs," shared Mark. "We have also included art therapy as an additional component to our program when the therapy dogs are here."
Books & Barks Contest Information
If you enjoyed reading about Kiss and Gracie, stay tuned for more stories about our Books & Barks finalists. Visit the Pets Best Facebook page to vote for your favorite therapy dog starting on April 7th and ending on April 14th, 2016.
The therapy dog finalist with the most public votes will win! The school, library, or program mentioned in the winner's nomination story will receive $1,000 from Pets Best and the therapy dog's owner will receive $500 to donate to their animal non-profit of choice.
If you missed this year's contest, you can still nominate your favorite therapy dog for next year's 2017 Books & Barks Contest.