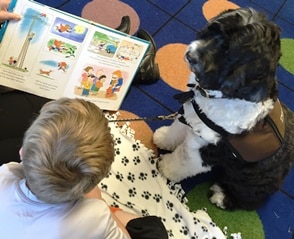 Brinkley & Catie: Therapy Dog Team Cheers Up Hospital Patients & Loves Reading with Kids
Pets Best is pleased to announce our eight finalists in the 3rd Annual 2016 Books & Barks Contest. In 2014, Pets Best created the contest to recognize and bring awareness to the inspirational work of therapy dogs in classrooms and libraries across the nation. These incredible dogs make a positive impact in the lives of children on a daily basis.
Meet the dynamic dog duo of 9-year-old Brinkley and 6-year-old Catie. These Portuguese Water Dogs are certified therapy pets through Pet Partners and are Reading Education Assistance Dogs (R.E.A.D.). They read with children at local schools and libraries in Manhattan Beach, California and cheer up patients at St. Charles Hospital in Oregon. Handler Gwen Brock has owned Brinkley and Catie since they were 8-weeks-old and trained them herself. When Brinkley joined Gwen's family, his personality was perfect for a pet therapy dog. He received his AKC Canine Good Citizenship at 11-months-old and was a Pet Partner in 2008. Catie became a Pet Partner after she was 1-years-old. Brinkley has over 1500 volunteer hours and Catie has 850 volunteer hours.
Brinkley and Catie love to put on their therapy dog vests as they know it is the day they work with children. Pet Partners does not allow Gwen to work with both dogs at the same time in one assignment – no more than two hours per day – so Brinkley and Catie take turns working with the children. According to Gwen, therapy animals are wonderful additions to hospitals, schools, libraries and homes for seniors. Brinkley and Katie love children and while at the hospitals, their total focus is on that child.
"In hospitals, patients have cried many times when we come in to visit, either from missing their own dogs that left them, or they just miss their dog while they are in the hospital. A friendly visit and a pat seem to comfort them."
Gwen explained that children make great strides when working with R.E.A.D. therapy teams. No one criticizes or makes fun of them while reading. They improve their communication skills and reading becomes fun for them. They also build their self- esteem and confidence levels and improve their social skills.
"I had a little girl that never liked dogs or would be even close to a dog. Within two weeks, she was sitting right next to Brinkley and Catie and enjoyed reading to them, and now she has her own personal dog," shared Gwen.
Because the students look forward to reading with the dogs, they don't miss school. Since they know Brinkley and Catie have to be bathed the night before they visit the school (including cleaning their teeth and ears), the dogs set a good example which helps improve the students' personal hygiene.
Books & Barks Contest Information
If you enjoyed reading about Brinkley and Catie, stay tuned for more stories about our Books & Barks finalists. Visit the Pets Best Facebook page to vote for your favorite therapy dog starting on April 7th and ending on April 14th, 2016.
The therapy dog finalist with the most public votes will win! The school, library, or program mentioned in the winner's nomination story will receive $1,000 from Pets Best and the therapy dog's owner will receive $500 to donate to their animal non-profit of choice.
If you missed this year's contest, you can still nominate your favorite therapy dog for next year's 2017 Books & Barks Contest.