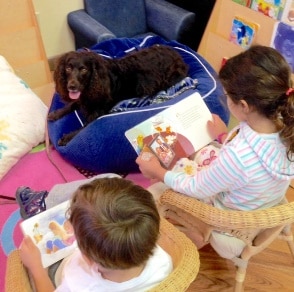 Tess the Caring Canine: Providing Comfort to Children in Florida's Court System
Pets Best is pleased to announce our eight finalists in the 3rd Annual 2016 Books & Barks Contest. In 2014, Pets Best created the contest to recognize and bring awareness to the inspirational work of therapy dogs in classrooms and libraries across the nation. These incredible dogs make a positive impact in the lives of children on a daily basis.
Meet Tess, a 4-1/2-year-old Boykin Spaniel, who is one of 15 therapy dog teams in the Caring Canines Program of the 15th Circuit in Palm Beach, Florida. Her owner/handler, Lynne Brown, is the regional coordinator of Florida's Boykin Spaniel Rescue (BSR). She's committed to making sure Boykin Spaniels have forever foster homes. BSR has 15 permanent foster care dogs that have medical or other issues that make then unadoptable. Tess and her sister, Mollie, live with Lynne on a permanent basis.
Tess was certified as a therapy dog at 18-months-old and works with abused, abandoned, and neglected children in the court system. When children come to court, they are often frightened. According to Lynne, Tess sees kids as her personal mission and has a calming presence, especially in high-stress situations. She is also very gentle with children who have special needs. Tess is also trained to "get low" and lie completely flat so that babies/toddlers can safely interact with her.
While waiting to testify in court, kids can pick out a book from the library and read quietly to Tess. Children are allowed to take their book home, and for many kids, this is the first book they have owned. Many of the kids have not had positive interactions with dogs, but Tess helps ease their worries and comforts them.
"Reading to Tess allows the child to interact without needing to touch the dog. While the child is reading, Tess wiggles and inches her way closer and her head ends up on the child's lap," shared Lynne. "Fast friends are made and the child is proud of reading to her. Tess will then do a trick to thank them for their story. Their confidence is built up and the bond is formed."
Books & Barks Contest Information
If you enjoyed reading about Tess, stay tuned for more stories about our Books & Barks finalists.  Visit the Pets Best Facebook page to vote for your favorite therapy dog starting on April 7th and ending on April 14th, 2016.
The therapy dog finalist with the most public votes will win! The school, library, or program mentioned in the winner's nomination story will receive $1,000 from Pets Best and the therapy dog's owner will receive $500 to donate to their animal non-profit of choice.
If you missed this year's contest, you can still nominate your favorite therapy dog for next year's 2017 Books & Barks Contest.