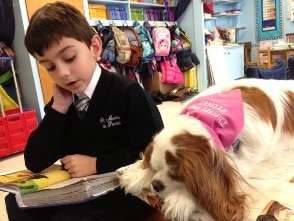 Improving the Self-Esteem of Young Students: Stylish Sydney Makes Reading Fun
Pets Best is pleased to announce our eight finalists in the 3rd Annual 2016 Books & Barks Contest. In 2014, Pets Best created the contest to recognize and bring awareness to the inspirational work of therapy dogs in classrooms and libraries across the nation. These incredible dogs make a positive impact in the lives of children on a daily basis.
Meet the stylishly sweet, Sydney, an 8-year-old female Cavalier King Charles Spaniel. In 2009, Sydney became a registered therapy dog with Therapy Dogs International, Inc. Therapy dogs run in the family, according to handler Chris Grimaldi from Hyde Park, New York. Sydney has an older brother therapy dog, Oliver, who works at the local nursing home. Sydney also earned the
"Tail Waggin' Tutor" Achievement Award and the TDIAOV – Active Outstanding Volunteer Award from Therapy Dogs International, Inc.
Sydney has worked with approximately 500 first and second graders in two schools during the past 7 years. She spends a lot of time with the students at St. Martin de Porres School in Poughkeepsie, New York. According to Mrs. Kimberly Papineau, St. Martin's second-grade teacher, Sydney stands out as extra special because her tail is always wagging and her handler, Chris, always has a smile and kind words for the children.
"Sydney makes a direct impact on the literacy of the children by making her therapy a time for excitement, esteem building, and sending the message that reading is a fun and an important endeavor," said Mrs. Papineau. "Sydney has helped build the confidence of all readers who have spent time with her and especially pulls in the emergent, reluctant readers as well. Students always come back with shoulders squared, head held high, and with a big smile on their face. Students get excited on a weekly basis for this special time."
Chris shared that during Sydney's first year working with students she met a shy young student who loved animals but didn't like to read. Because she had so much fun reading with Sydney, she asked to continue reading with Sydney through the summer months and through the following school year.
"She looked forward to her time with Sydney and loved to read books to her about animals, especially other dogs! She always made sure to stop and show Sydney the illustrations in the books."
Sydney is also known for showing up at St. Martin's in stylish outfits. She enjoys wearing cute costumes that correspond directly to the season such as Valentine's Day, Christmas, Earth Day or her personal favorite, Halloween. Sydney is so well loved that parents stand in line at the school book fair to get a chance to see this amazing dog (and her handler, Chris) that have positively impacted their children. The families of St. Martin love her so much that each year the second graders at St. Martin's collect supplies and cash for the Dutchess County SPCA in Sydney's honor.
Books & Barks Contest Information
If you enjoyed reading about Sydney, stay tuned for more stories about our Books & Barks finalists. Visit the Pets Best Facebook page to vote for your favorite therapy dog starting on April 7th and ending on April 14th, 2016.
The therapy dog finalist with the most public votes will win! The school, library, or program mentioned in the winner's nomination story will receive $1,000 from Pets Best and the therapy dog's owner will receive $500 to donate to their animal non-profit of choice.
If you missed this year's contest, you can still nominate your favorite therapy dog for next year's 2017 Books & Barks Contest.