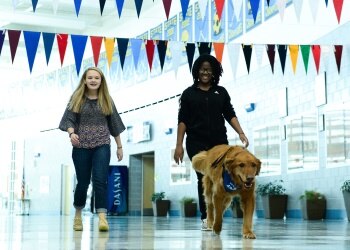 "Born to Be a Therapy Dog": Rudy Brings Joy to High School Students and Staff
Pets Best is pleased to announce the four finalists in our Fourth Annual 2017 Books & Barks Contest. In 2014, Pets Best created the contest to recognize the hard-working and inspirational therapy dogs who visit classrooms and libraries across the nation. These incredible dogs make a positive impact in the lives of children on a daily basis.
Meet Rudy, the cheerful, seven-year-old Golden Retriever who joins his owner and handler, Jessi Bova, each day as she commutes to her counseling job at Maryland's Pocomoke High School. Now in his fourth year as a therapy dog and first year at the high school, Rudy visits classrooms, the library, the suspension room, and joins students in the hallways during the transition times between class periods. He's even present for students who may struggle while taking certain exams. "It's helpful for our students to see Rudy every day," says Bova.
Rudy is also available when Bova conducts individual counseling sessions, where he is needed most. "As a high school counselor in a high-poverty area, Rudy is the only thing that gets our students through the day sometimes," she relates. "They cry to him, they get through panic attacks with him, they talk directly to him and share their most personal issues and there he sits calmly, assuring them with a gentle nudge that everything will be okay and that they are safe with him," says Bova. "Offering them a chance to have that connection with Rudy is really special."
Rudy's lovable personality has made him a bit of a celebrity at Pocomoke. He's known for his affection for humans, and often wants to be touched. "You have your hand on him at all times," says Bova. And if you don't, "he'll nudge you so you pet him more." Rudy is also what she calls a "leaner" — often sliding down your leg slowly until you rub his tummy. "He's such a lover. I've never met a dog like Rudy," she says. "He brings joy to all that meet him."
And while "Rudy comes to school every day happy and leaves happy," explains Bova, "he did not have the happiest start to his life." After he was surrendered a few times and rescued, Bova became a foster mom to the puppy. "When I got him, he was so sad," she relates. "I wanted to do anything I could to bring happiness to his life." And when she noticed he loved people and especially kids, Bova knew she wanted to do more. So, she adopted Rudy, and quickly had him certified as a therapy dog Pets on Wheels of DelMarva. "I love kids and people, and helping others — and he just fit into that," she says. "I am beyond grateful to give Rudy the life that he deserves and to share his amazing gift with the world."
In his few short years, Rudy has already made more of an impact than Bova could've ever imagined, especially considering her initial concerns that high school students might be "too cool" for a therapy dog program. But the welcome from both staff and students has been a warm one. "High school can be an emotional roller coaster at times," she explains. "And while these students are in high school, they're still kids — with the same problems and the same things going on in their lives. So when they can talk to Rudy and pet him, it helps them get themselves together if they're upset. He's a great distraction. Even the parents and staff members say they need their daily dose of Rudy."
Bova believes a therapy dog program, while typically seen in elementary schools, can benefit students of all age and backgrounds. "He is a tremendous asset to our building; he has totally changed the environment for the better," she says. "Rudy was born to be a therapy dog."
Books & Barks Contest Information
If you enjoyed reading about Rudy, stay tuned for more stories about our Books & Barks finalists. Visit the Pets Best Facebook page to vote for your favorite therapy dog starting on March 23rd and ending on March 30th, 2017.
The therapy dog finalist with the most public votes will win! The school, library, or program mentioned in the winner's nomination story will receive $1,000 from Pets Best and the therapy dog's owner will receive $500 to donate to their animal non-profit of choice.
If you missed this year's contest, you can still nominate your favorite therapy dog for next year's 2018 Books & Barks Contest.