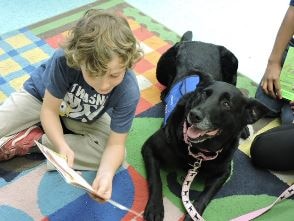 The Amazing Mazy: Helping Students Build Confidence & Achieve Reading Success
Pets Best is pleased to announce our eight finalists in the 3rd Annual 2016 Books & Barks Contest. In 2014, Pets Best created the contest to recognize and bring awareness to the inspirational work of therapy dogs in classrooms and libraries across the nation. These incredible dogs make a positive impact in the lives of children on a daily basis.
Meet the "Amazing" Mazy, a lovable 8-year-old Labrador Retriever mix. Mazy's owner Rita Tilton adopted her from Circle Tail, a rescue organization that is involved with an inmate training education program. Mazy began training as a service dog but did not have all of the necessary qualifications. As a result, she was released for adoption and has been a member of Rita's family for six years. Mazy has been certified as a therapy dog for the past 4 years.
Mazy never knows what her day will involve as she enthusiastically greets students at Englewood Hills Elementary School in Ohio. Because of her calm, gentle demeanor, Mazy is up for any task. She makes a positive impact on the learning environment at Englewood Hills and helps children experience genuineness, acceptance, patience, and empathy. She happily welcomes new students and their families and entertains them with her tricks.  Mazy also led the Halloween parade, played a role in the school movie, and received the "Master Therapist" designation.
Students who were previously afraid of dogs overcame their fear because of Mazy, while others learned about the responsibilities of dog ownership and proper etiquette when interacting with dogs. Mazy provides comfort to grieving children and encourages students to discuss their problems. She was even the main character in a book written by second graders which help them learn about the qualities of being a good friend.
As an elementary school counselor, Rita works with many students who experience difficulty with learning or other issues that negatively affect their ability to learn.  When those students are with Mazy, however, they are motivated and encouraged by her presence.
"We sometimes use her as an example of calmness and determination – she never gives up on finding a hidden treat or working to earn one!" explained Rita. "One student told me that when he is having a bad day at school, he is comforted by just thinking about petting her and having her nearby, even if she's not in the building that day."
Books & Barks Contest Information
If you enjoyed reading about Mazy, stay tuned for more stories about our Books & Barks finalists. Visit the Pets Best Facebook page to vote for your favorite therapy dog starting on April 7th and ending on April 14th, 2016.
The therapy dog finalist with the most public votes will win! The school, library, or program mentioned in the winner's nomination story will receive $1,000 from Pets Best and the therapy dog's owner will receive $500 to donate to their animal non-profit of choice.
If you missed this year's contest, you can still nominate your favorite therapy dog for next year's 2017 Books & Barks Contest.