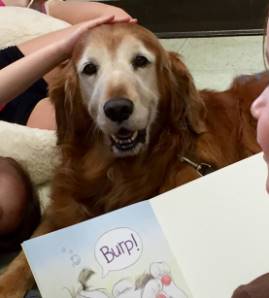 Maggie the Senior Rescue Dog: Helping Struggling Students Fall in Love with Reading
Pets Best is pleased to announce our eight finalists in the 3rd Annual 2016 Books & Barks Contest. In 2014, Pets Best created the contest to recognize and bring awareness to the inspirational work of therapy dogs in classrooms and libraries across the nation. These incredible dogs make a positive impact in the lives of children on a daily basis.
Meet 11-year-old Golden Retriever, Maggie. According to handler and owner, Jamie Stewart, Maggie is an extra special senior therapy dog. Maggie is a rescue dog who was removed from a hoarding situation where she was neglected and was taken in by GRRAND, a Golden Retriever rescue. In 2013, Jamie then adopted Maggie from GRRAND when she was 9 years old.
When Jamie realized how sweet Maggie was and loved everyone who crossed her path, she knew she had a therapy dog on her hands. Maggie was certified through Pet Partners in September 2014 and became involved in the local pet therapy group, Therapy Pets of Greater Cincinnati. Because of Jamie's background in education, she and Maggie make a great team. As a lifelong dog lover and former educator, Jamie said that owning a senior rescue pet that is also a therapy dog has enriched the lives of many people – including her.
Maggie works monthly at the local library program and once a week at the local rec center. Students also spend three hours every Friday "Reading with Maggie" at J.F. Burns Elementary School (Kings Local School District) in Ohio. In a two-week period, Maggie listens to more than 50 children read. Maggie goes into the reading intervention classroom, happily greets each student with a sniff and a tail wag, and then lies down so students can pet her.
"They all light up when it's Maggie Day! Besides her extra sweet demeanor, she has what I call a 'sugar face' that makes people fall in love with her. As a red Golden, that white face really stands out and is always highlighted by her Maggie smile," explained Jamie. "These kids, many of whom struggle with reading, seem to relax and just read while rubbing Maggie's head and petting her soft fur. It is a big deal for them to connect with her and experience a positive feeling associated with reading."
Books & Barks Contest Information
If you enjoyed reading about Maggie, stay tuned for more stories about our Books & Barks finalists. Visit the Pets Best Facebook page to vote for your favorite therapy dog starting on April 7th and ending on April 14th, 2016.
The therapy dog finalist with the most public votes will win! The school, library, or program mentioned in the winner's nomination story will receive $1,000 from Pets Best and the therapy dog's owner will receive $500 to donate to their animal non-profit of choice.
If you missed this year's contest, you can still nominate your favorite therapy dog for next year's 2017 Books & Barks Contest.