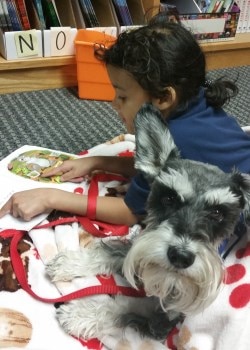 "She Was Born for This Role": Quadlingual Leeloo Helps Students Hone Language Skills
Pets Best is pleased to announce the four finalists in our Fourth Annual 2017 Books & Barks Contest. In 2014, Pets Best created the contest to recognize the hard-working and inspirational therapy dogs who visit classrooms and libraries across the nation. These incredible dogs make a positive impact in the lives of children on a daily basis.
Meet Leeloo, the seven-year-old miniature Schnauzer dedicated to helping young readers build their reading and language skills. What makes her so unique? Leeloo is Korean. Not only that, she participated in one of the first ever therapy dog teams in South Korea, helping children build their confidence reading in English. Soon after her stint overseas, Leeloo's handler, Amanda Swearingen, decided it was time to move back to the United States, where she became registered as a therapy dog in 2013. Today, she is an active participant in the Reading Education Assistance Dogs (R.E.A.D.®) program, facilitated by PAWS for Service, an organization which runs entirely off member dues and donations (as well as grants, where available).
These days, Leeloo and Swearingen visit students at San Antonio's Douglas Elementary School twice a week, where they help students who are struggling or disengaged in their classes. This dedicated duo is a recipient of the Academy for Teacher Excellence Presidential Reading Fellowship, and Swearingen was recently recognized by the University of Texas for her work creating a library for other dog therapy teams volunteering in San Antonio area schools.
In addition to her love of public service, Leeloo has another skill — she's quadlingual. "Leeloo knows English, Spanish, Korean, and hand gestures," says Swearingen. "The kids love it because they're all bilingual or learning a second language, so they see a lot of themselves in her," she adds. "And it's beneficial for them to have a reading experience where their languages are valued. So I play up Leeloo's multi-lingualism. If they're reading to Leeloo and struggle with a word in English, they project that onto Leeloo, [saying], 'I think Leeloo had a hard time with this word.' So I can say 'Oh, she's learning different languages, too.'"
And this type of support is crucial. "If these kids don't receive help they need before third grade, statistics show a direct link between that and their dropout rate and access to jobs," explains Swearingen, who is currently conducting her master's thesis research on using canine-assisted reading programs to boost second language learners' engagement in reading. "These teachers are awesome, but they have a lot of responsibilities. Even one hour a week adds up," she says.
"The therapy dogs in this program are providing a life-saving service for these kids," says Swearingen, who believes a designated therapy dog program "opens the door to literacy" for struggling readers, "while empowering them to become lifelong lovers of reading."
Much like a young child learning how to read, communicate, and make their way in the world, Leeloo has had her own struggles. "When I [adopted] her, she was three months old and had many medical problems — distemper, an eye and ear infection, ringworm — she couldn't be around other dogs because she was so sick," says Swearingen. "And distemper, depending on the type of treatment, comes with a 50-90 percent mortality rate. I didn't know if she was going to make it." There were cultural barriers to overcome, too. "Schnauzers are one of three breeds in Korea they call 'the devil dog,'" she adds. "Pet ownership and all that comes with it is a new phenomenon in Korea, compared to the U.S. There aren't a lot of opportunities, stores, or dog-friendly places." But despite Leeloo's early challenges, she is proving there is potential in even the humblest beginnings. "She was born for this role," says Swearingen.
Books & Barks Contest Information
If you enjoyed reading about Leeloo, stay tuned for more stories about our Books & Barks finalists. Visit the Pets Best Facebook page to vote for your favorite therapy dog from March 23 to March 30, 2017.
The therapy dog finalist with the most public votes will win! The school or library mentioned in the winner's nomination story will receive $1,000 from Pets Best and the therapy dog's owner will receive $500 to donate to their animal non-profit of choice.
If you missed this year's contest, you can still nominate your favorite therapy dog for next year's 2018 Books & Barks Contest.