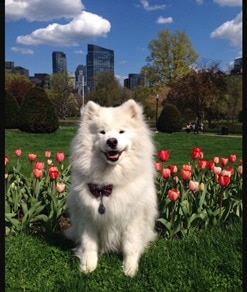 The Boston Library Dog: Gentle Harvard Enjoys Listening to Children Read Stories
Pets Best is pleased to announce our eight finalists in the 3rd Annual 2016 Books & Barks Contest. In 2014, Pets Best created the contest to recognize and bring awareness to the inspirational work of therapy dogs in classrooms and libraries across the nation. These incredible dogs make a positive impact in the lives of children on a daily basis.
Meet lovable Harvard, a gentle 12-year-old Samoyed, who enjoys working with kids at the Central Library (of the Boston Library) in Copley Square. Maija Meadows works at the library and met Harvard and his owner, Dana, through Pets and People over a year ago. Certified as a therapy dog when he was a puppy, Harvard is a very relaxed, kind and patient senior dog. Maija and Harvard have an excellent rapport, and her favorite days are when Harvard visits at the library.
Harvard is very comfortable and relaxed around the children. He's also in tune with the grown-ups and when babies flop onto him or grab a handful of fur, it doesn't faze him. He is happy every time he visits the library and loves to be petted by the kids. The children connect with his easy-going personality and gentle spirit.
Harvard puts everyone at ease and makes even nervous children excited to pet him and sound out words to him. Harvard is a really good listener and gives equal attention to each child when they read to him.
"Three little girls sat in front of him and they were competitively reading to him, and trying to coax him to turn toward them and listen to their story," shared Maija. "Harvard listened and turned to each one of them, but he didn't get flustered – just tried to engage with them all."
Harvard is an extra special therapy dog who also makes special appearances at different charitable events for his birthday party. He and his owner help raise money for programs such as K-9 First Aid Kits for the Boston Police Department and also donated money to MSPCA Angell. Harvard also visits young campers at a bereavement camp.
Books & Barks Contest Information
If you enjoyed reading about Harvard, stay tuned for more stories about our Books & Barks finalists. Visit the Pets Best Facebook page to vote for your favorite therapy dog starting on April 7th and ending on April 14th, 2016.
The therapy dog finalist with the most public votes will win! The school, library, or program mentioned in the winner's nomination story will receive $1,000 from Pets Best and the therapy dog's owner will receive $500 to donate to their animal non-profit of choice.
If you missed this year's contest, you can still nominate your favorite therapy dog for next year's 2017 Books & Barks Contest.