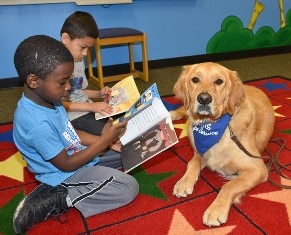 PAWS for Service: Lovable Gus Helps Bilingual Students Improve Reading Skills
Pets Best is pleased to announce our eight finalists in the 3rd Annual 2016 Books & Barks Contest. In 2014, Pets Best created the contest to recognize and bring awareness to the inspirational work of therapy dogs in classrooms and libraries across the nation. These incredible dogs make a positive impact in the lives of children on a daily basis.
2-year-old Golden Retriever pup, Gus, is a proud member of PAWS for Service Therapy Dogs, a non-profit organization in San Antonio, Texas, that has trained and placed therapy dogs for over 20 years. PAWS for Service trainer LaDonna Moment trained Gus and more than 100 therapy teams and in April 2015, Gus became certified as a therapy dog. LaDonna said it is unusual to have a dog this young be such an exceptional therapy dog. Gus and his human team member/owner, Bernadette Barnes, are certified members of the Reading Education Assistance Dogs (R.E.A.D.®) program at Jackson-Keller Elementary School. They also make frequent visits to cheer up patients at Methodist Hospital in San Antonio.
LaDonna recognizes Gus as one of the most talented and gifted therapy dogs in PAWS for Service. Gus goes above and beyond what is expected during his visits. He is attentive, interactive and is a day-brightener to anyone he meets. Gus is friendly without being pushy and projects a calm, quiet demeanor. He intuitively senses the needs of children (and adults), and is always ready for a hug, touch, or cuddle and will affectionately lean into those who need it.
Gus and Bernadette are a therapy dog team that makes a positive difference at Jackson-Keller Elementary School, a low-income Title One school that is dependent upon government subsidies. Gus and Bernadette help bilingual students who struggle with reading and also help out in the special education classroom. Teachers have seen amazing progress in a short amount of time, and participating students have increased their grade reading level skills. Thanks to Gus students now enjoy reading instead of dreading picking up a book.
"One young boy who started as a timid, quiet and reluctant reader now rushes to select higher level books and reads aloud in a strong, steady voice. He had already been held back one grade, and traditional intervention hadn't been helpful." LaDonna shared. "It took just a few weeks until the boy was able to trust Gus enough to sit beside him and the boy began to read more confidently to Gus. After each reading session, the boy hugs Gus and tells him, 'I love you, Gus' before returning to his classroom."
Books & Barks Contest Information
If you enjoyed reading about Gus, stay tuned for more stories about our Books & Barks finalists. Visit the Pets Best Facebook page to vote for your favorite therapy dog starting on April 7th and ending on April 14th, 2016.
The therapy dog finalist with the most public votes will win! The school, library, or program mentioned in the winner's nomination story will receive $1,000 from Pets Best and the therapy dog's owner will receive $500 to donate to their animal non-profit of choice.
If you missed this year's contest, you can still nominate your favorite therapy dog for next year's 2017 Books & Barks Contest.