Book review: Cat Training in 10 Minutes
Posted on January 3, 2011 under Industry News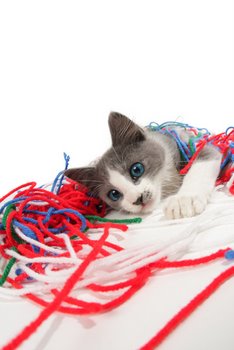 Posted by: H.R.
For Pets Best Insurance
With over 22 years experience in animal training field, Miriam Fields-Babineau has finally written a book for cat owners. Cat Training In 10 Minutes is an easy guide to help train your cat to perform simple tricks. The book uses operant conditioning as its cat training method. The cat is trained by the use of a clicker followed by a reward when the desired action is performed. Verbal commands and hand signals are used in conjunction with the clicker training.
Each trick has simple instructions on how to teach your cat. In addition, color photos accompany each trick.
The book is organized into chapters with each being dedicated to a specific command or behavior. The chapters begin with easy tricks and advance to more difficult tricks in later chapters.
The bonus chapters at the end of the book discuss correcting cat behavior problems and movie cat trainers.
The book also features cat training tips for real life scenarios listed in boxes on the sides of the pages. These tips make for some lighthearted reading. Another great feature of this book is the alphabetical index and various appendices.
The book is a fun read that can help you teach your cat some amazing tricks. Impress your friends and family by teaching your cat entertaining skills.