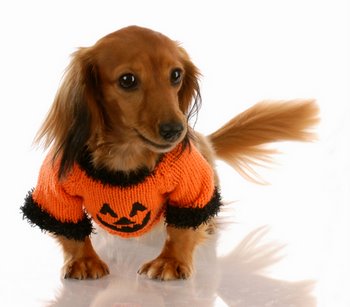 By: Dr. Fiona Caldwell
Veterinarian at Idaho Veterinary Hospital
For Pets Best Insurance
Halloween is a spooky fun time for the whole family– but there are some things to remeber when keeping your furry family members safe during this October holiday. Having a dog or cat insurance policy is one of the best things you can do for your little goblin– in the event of a Halloween mishap. Here are some tips for your pet's safety:
While scary costumes and ringing doorbells door-to-door can be fun for kids and adults, this can be stressful for some dogs and cats. Stress related colitis can occur with continual ringing of the doorbell and strangers coming and going. Try to keep your pet in a quiet safe place during treat-or-treating hours.
Halloween pranksters can occasionally be cruel, so be sure to keep all pets inside during the festivities of Halloween day and night. Black cats tend to be targeted for mean pranks on Halloween night, so be sure to keep a close eye on your kitty. Some humane societies won't even allow adoptions of black cats around Halloween for this exact reason.
Another thing to consider is your scary costume! While these are Halloween staples, pets may become frightened, or even fearfully aggressive if they don't recognize you or your children when you're wearing something unfamiliar. Never assume that your dog will be comfortable with disguises. Talk in a low soothing voice to let him know it's you. Another idea is to allow your pet in the room while you change into your costume or put your mask on.
Pet costumes are universally adorable and can be very tempting to put your pet in. But it's important to be cognitive that most pets won't like these and costumes can be stressful or uncomfortable for them. In addition, if there are tassels, fringe or strings on the costume, these can be ingested and cause serious intestinal problems or even blockage, which can require surgery to correct. Investing in pet health insurance is one of the best ways to be sure you can give your pet the best care in the event of a Halloween accident. Some pets might chew on the costume and ingest parts of the fabric, also causing problems. Never leave your dog unattended in a Halloween costume.
Carving pumpkins is a time honored tradition, but it's important to keep your pet from eating the pumpkin innards. While not poisonous or toxic to dogs, pumpkin seeds in excess can cause gastritis, and subsequent vomiting and diarrhea. This can be a spendy trip to the vet without pet health insurance. So be sure to watch that pup or kitty around the carved leftovers.
After the pumpkins are carved and displayed, be sure to protect animals from the candles inside, which can pose a fire hazard if knocked over, or can cause serious burns or stomach upset if ingested.
Trick-or-treating always results in yummy candy! Most pets love the taste of candy, but shouldn't be allowed to eat it. As many pet owners know, chocolate candies can be toxic to dogs and too much candy can cause inflammation of the pancreas, or pancreatitis, which can require hospitalization and intensive treatment. Because there tend to be more accidents of this kind around the Halloween holidy, it's important that you have pet insurance for your four-legged friend.
Some sugar-free candies and gum contain xylitol, an artificial sweetener that is very toxic to dogs and can cause dangerously low blood sugar. This can lead to seizing, coma and can even be fatal. Be sure to keep these kinds of candies out of reach from your pet.
If your dog is comfortable in a costume and will go trick-or-treating with you, consider reflective collars or reflective additions to the costume in order to provide more visibility on busier streets in the dark.
With just a little extra forethought, Halloween can be a fun time for the whole family. If you are concerned that your pet has eaten candy it shouldn't, or part of its costume, call your veterinarian immediately. Please watch out for animal cruelty as well, and contact the local authorities, or shelter if you suspect this.
Happy Halloween!