Three-Pound Teacup Chihuahua to Ring Bell in New York's Times Square
Pets Best Insurance, one of the leading pet insurance providers in the United States, will preside over the closing bell at the NASDAQ stock market on Monday, Nov. 12.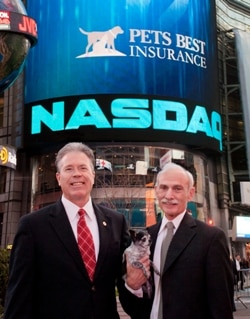 Greg McDonald, chief executive officer of Pets Best, and the company's president and founder, Dr. Jack Stephens will ring the closing bell, along with Jeff Smedsrud, president of American Independence Corp (AMIC).
"We are honored to join AMIC in New York City to represent the pet insurance industry, our dedicated staff and our policyholders nationwide," said Stephens. "Pet insurance is experiencing swift growth in the United States. We are thrilled to showcase, on a national platform, the unique, affordable plans that we offer pet parents."
Dr. Stephens' 3-pound Teacup Chihuahua, Torrey (short for "Tornado"), will actually be the one to "ring" the bell. Torrey is Pets Best Insurance's "Customer Care Advocate" and is the animal ambassador of the company.
"Torrey may need a little help, given the whole opposable thumbs predicament, but she's surely looking forward to it as much as I am," laughed Dr. Stephens. "Torrey was invited to participate in the closing ceremony and I know she will do a great job."
The North American pet insurance market grew 114% between 2005 and 2009 and is expected to grow an average of 20% annually through 2014 to reach $880 million.(1) And according to the American Pet Products Association, in 2012 alone, it is projected that veterinary spending will top over an 8 percent increase to $13.59 billion from previous years.(2) Pets Best is the fourth largest pet insurance company in the U.S.(3) and has had 20 percent yearly sales increases since 2005.
Dr. Stephens is recognized as the founder of pet insurance in the United States and issued the first pet insurance policy to TV dog Lassie in California in the 1980s.
About Pets Best Insurance
With the goal of reducing economic euthanasia and his commitment to the health and well-being of all pets, Pets Best Insurance president Dr. Jack Stephens founded pet insurance in the United States in 1981. A true industry visionary, Dr. Stephens presented the first pet insurance policy to famous television dog Lassie. Dr. Stephens leads the Pets Best Insurance team with his passion for quality pet health care and his expert veterinary knowledge. The Pets Best Insurance team is comprised of pet lovers who strive to deliver quality customer service and value.
Pet insurance plans offered and administered by Pets Best Insurance Services, LLC are underwritten by Independence American Insurance Company, a Delaware Insurance company. Independence American Insurance Company is a member of The IHC Group, an insurance organization composed of Independence Holding Company, a public company traded on the New York Stock Exchange, and its operating subsidiaries. The IHC Group has been providing life, health and stop loss insurance solutions for nearly 30 years. For information on The IHC Group, visit http://www.ihcgroup.com. In states in which Independence American Insurance Company's new policy form has not yet received regulatory approval, Aetna Insurance Company of Connecticut will underwrite policies. Each insurer has sole responsibility for its own products. To determine the applicable underwriter in your state visit http://www.petsbest.com/underwriter or call Pets Best at 1-877-738-7237.
(1) Package Facts, Pet Insurance in North America, 4th Edition, November 2010.
(2) Industry statistics & Trends in 2012. American Pet Products Association.http://www.americanpetproducts.org/press_industrytrends.asp
(3) Package Facts, Pet Insurance in North America, 4th Edition, November 2010.