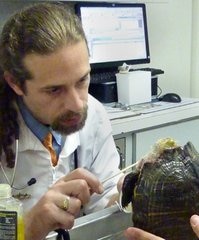 Dr. Tony Poutous of Virginia was a 2012 quarterly winner in the My Vet's the Best contest. Dr. Poutous received more than 3,000 votes in the contest by pet insurance provider Pets Best Insurance. Dr. Poutous was nominated by client Karen Calabro who said, "Dr. Poutous is the world's greatest when it comes to compassion, knowledge, communication and genuine concern regarding all animals here on earth. This man is an absolute treasure."
Dr. Poutous recently reached out to Pets Best Insurance with an update on what has been happening since he won the contest.
Dr. Poutous used the prize money to treat a severely abused dog. She was caught in the middle of a break-up. Dr. Poutous states, "The short story is that the girlfriend left the dog behind with the ex-boyfriend and he kept her locked in a crate for about 8 weeks with no food or water to 'get back at the girlfriend.' She was severely emaciated, dehydrated, covered in urine and had open wounds all over her. It was several days of hospitalization before she could even hold her head up on her own. It's been about a month now and she is doing much better. She still has one wound which has not completely healed, but she's in a new home with a new life. Thanks to Pets Best Insurance for their generous contribution to getting her better."
Dr. Poutous has also changed hospitals. Dr. Poutous explained that out of sad circumstances, arose a silver lining. He explained that tragically last November a local veterinarian was killed in an auto accident. She was a solo practitioner and one of the few other veterinarians in the area that would see exotic animals. Dr. Poutous says, "I began volunteering my services there on my days off from Pet Care so that someone could see her patients (especially the exotics that the paid relief vets wouldn't see). Then the previous owner's widow approached me about purchasing the practice. I felt that this was an opportunity that I needed to a take, so with a bit of trepidation I left my Pet Care family. There is so much to do, but this will be new and exciting adventure."
"Thanks again for all you do to help us help animals," Dr. Poutous concluded.
Formerly, Dr. Poutous worked at the Pet Care Veterinary Hospital in Virginia Beach, VA. Dr. Poutous is now practicing at the Midway Veterinary Hospital, Chesapeake, VA.
Do you have the best veterinarian? The My Vet's the Best contest from petinsurance provider, Pets Best, recognizes outstanding members of the veterinary community. Learn more about the veterinarian contest and how to nominate your vet.
Pet Parents: Get Our Monthly Free eNewsletter!