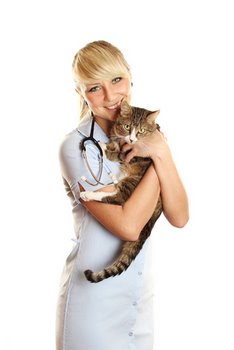 By: Dr. Jane Matheys
Associate Veterinarian
The Cat Doctor Veterinary Hospital
For Pets Best Insurance
The human-companion animal bond is stronger than ever, and pet ownership, pet spending and pet insurance is unquestionably on the rise. But the number of dog and cat visits to veterinary clinics is decreasing while the pet population is increasing. This is especially true for our feline companions. There are 82 million pet cats in the United States, compared with 72 million dogs, making cats the most popular pet. Yet studies show that the number of feline veterinary visits is declining steadily each year.
Sadly, many cats are not getting the veterinary care they need and deserve. A recent survey revealed that compared to dogs, almost three times as many cats had not received veterinary care in the past year. Thirty-six percent of pet owners surveyed said that were it not for vaccinations, they wouldn' t take their pet to the veterinarian at all. And 24 percent said they thought routine checkups were unnecessary. Clients with "indoor pets" thought their pets needed less care than outdoor pets and were less likely to have visited the veterinarian the past year.
While an indoor cat is less likely to be hit by a car or involved in a fight that ends up with an abscess, it's just as likely to get kidney disease, cancer, diabetes or another serious ailment– which is another reason pet insurance is a good idea. More surprising is the fact that pet owners with older animals were also less likely to have seen the veterinarian in the past year. Like humans, pet health problems increase as they age, so they need more care than the younger ones, not less care.
A recent analysis of veterinary patient data from 2006 to 2010 showed an increase in diabetes, dental disease, flea infestations and other common and preventable problems. There may be a correlation between the increase and prevalence of these diseases and the decreased visits to veterinarians. When pet owners don't bring in their cats for regular exams, they miss the chance to have a veterinarian spot something like dental disease or kidney disease which can have serious consequences if left untreated. These cat owners also miss the opportunity to learn how to take better care of their cat at home-for example, feeding the best kind of diet to prevent obesity. Many cat owners simply don't understand the need for routine care throughout their cats' lives. Cats will live longer and be healthier if they visit their veterinarian at least annually.
People often associate clinic visits with shots or vaccinations, but the cornerstone of each visit is the complete physical examination that the veterinarian performs. The doctor is looking for any problems with the eyes, ears, teeth, skin, internal organs and other body systems. Cats, like people, can develop pet health conditions that, if undetected, can become chronic illnesses that are costly to treat and possibly even life threatening. Cats are naturally adept at hiding the signs of illness, so annual exams are especially important for early diagnosis and treatment of health problems. Because cats age much more quickly than humans, older cats or cats with chronic illnesses benefit even more by visiting the veterinarian twice a year.
Cats need regular veterinary care, including annual exams and vaccinations, just like dogs do. With cats, though, there is often the problem of what is called feline resistance: the hiding, aggression, vocalization, visible stress and fearful behavior cats may exhibit when crated and transported to unfamiliar surroundings. Choose a veterinary clinic that nurtures a cat friendly environment and has experience in compassionate handling and restraint of felines to try to reduce the anxiety associated with your cat's visit. Ask the doctors and staff for tips on how to help acclimate your cat to her crate and condition her for the car ride to the clinic.
Understandably, cat owners may be unable or unwilling to spend money on veterinary care during the current economy and recession, but remember that regular exams can help your cat live longer, and prevent problems and expensive treatment later. Put plans into action to help budget for pet care, and check out the pet health insurance policies that are available. Prevention and early detection are keys to a healthy lifestyle for your cat. Take steps today to help maintain a state of wellness for your feline friend. Schedule annual exams and keep your cat purring happily for many years!