By: Dr. Jack Stephens, DVM
Pets Best Insurance President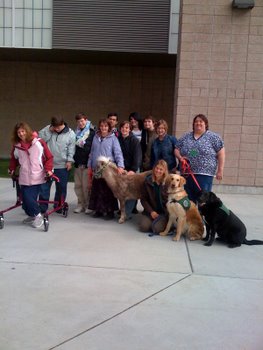 For years I have been promoting the power of pets for human health and well being. Although I knew even as a child that pets had a strong effect on our feelings, it was not until 1979 that I witnessed it first-hand as I watched a sick child interact with a therapy dog.
Over 30 years later my wife and I still believe in the "power of pets" as depicted by the photo of my wife and her mini-horse "Dandy," visiting challenged students at a local high school.
My wife, her therapy dogs and Dandy visit classes on a regular basis and practice the power of pets as they interact with the children.
This type of interaction makes us feel good about ourselves as it floods our bodies with feel-good hormones, lowers our blood pressure and improves nerve conduction in our brains by increasing neurotransmitters.
If we feel good about ourselves, we are able to achieve more and relate better to others. Teachers who have experienced student's interactions with animals often say it builds self-esteem and that it's a great social lubricant in getting them engaged with others—simply put, "pets break the ice and get us talking to one another."
Even more remarkable is how pets can positively impact reading skills in young children. At a local school, children in the first grade who could not read and certainly could not write are transformed when they know the mini-horse will be coming to their class. Something magical happens when the students are assigned to write a story and then read it to the animal. A student with a severe reading impairment is often able to read their story to the mini-horse near flawlessly when prior they struggled and stumbled over the words.
Perhaps the students' reading abilities are higher with the animal present because the students have a non-judgmental listener. The animal's presence alone seems to remove all peer or public pressure allowing the students to achieve something they could not do in a normal classroom setting. This achievement, as reported by first grade teachers, seems to give students confidence in their reading and writing abilities.
The lesson: Never underestimate the power of pets to provide a positive impact on a human's life and well-being.