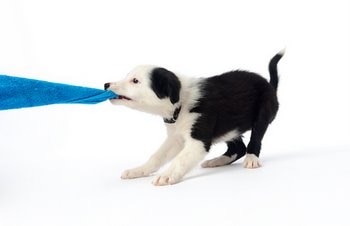 By: Judy Luther
Certified Dog Trainer
For Pets Best Insurance
As a pet health insurance enthusiast and certified professional trainer, I often get phone calls from pet owners complaining about their dog or puppy's behavior.
Just last night I received a call from a woman who owns a 6-month-old Border Collie puppy. She complained that when she walks through the kitchen in the morning, her puppy bites at her robe and wants to tug on it. She said it was so bad she could not make coffee without the puppy hanging onto her robe, biting at her feet and even barking and growling at her. Her biggest fear was that the puppy was showing some signs of aggression.
After discussing this behavior with the pet owner, it was clear to me this puppy was just behaving like a normal puppy. My interpretation was that each morning the puppy, who has been sleeping all night, was just happy to see his owner and wanted to play.
After a long night, the puppy awakes full of energy, happy to see his family members, and is ready for a fun game of tug. When the tug game does not happen, he tries harder to engage his family in play, by doing what puppies do; he bites at his owners toes and starts barking. In a sense, he is just begging for someone to give him much desired attention and help him burn off some of his puppy energy. If the owner starts telling him to stop and dances around to avoid the little puppy teeth, the dog interprets this as the interaction and play he was looking for.
So what is a puppy owner to do? There are some very easy solutions to this playful puppy issue. First, before anything, take your puppy out for a potty break. Next, while the coffee is brewing, take a few minutes to give your puppy some much needed attention. Play with him for a few minutes. Next, fill a food-dispensing toy with your puppy's breakfast. Give him this food-dispensing toy and let him enjoy his breakfast while burning some of that puppy energy. These types of toys give the puppy that much needed mental exercise.
Just like children, puppies need a lot of attention and playtime can be a very important learning experience. Because puppies are naturally curious and full of energy, it's a good idea to look into dog insurance to help protect your pup from potential puppy accidents and illnesses. Good dog health care will be essential throughout your puppy's life.
Play training games, hide and seek and crate games with him. These games will help your puppy learn that his crate is a fun place to go. Hide and seek can help teach that coming when he's called is wonderful. All of these exercises will help your puppy to grow up to be a well-rounded adult dog.
Oh, and about the above mentioned client; her puppy WAS acting like a normal puppy. Now this puppy owner better understands how to control that excessive puppy energy and has reduced the early morning puppy antics!
For more information about dog health care and pet insurance visit www.Petsbest.com.