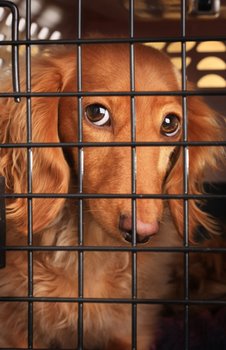 Crate training both older as well as new born puppies offers several advantages to pet owners who are just beginning the puppy training process. When used properly, crates are a valuable training tool for both puppies and adult dogs.
When choosing a crate for your new born puppy, it is essential that the proper sized crate is used. Choose a crate that is just large enough for your puppy to stand up and turn around. If you have a puppy that will grow significantly larger, then you may need to get a larger sized crate later on. A great choice for crates are the ones that include a divider. The divider allows you to adjust the size as your puppy grows.
Crates become a haven for dogs. They provide a safe place where they can go when they need to rest. New puppies that are crate trained also house train faster than those that are not trained using a crate. In addition to helping with house training, crates provide a safe place for your puppy when they can't be supervised, and are the ideal place for puppies to stay when you are away from home.
Remember to make the crate a positive place for your puppy. Crates should never be used as a place for punishment.