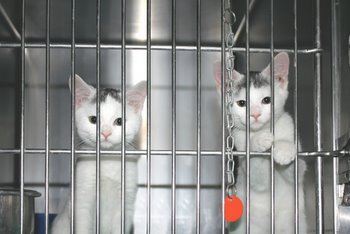 Shelters offer a large array of dogs and cats for adoption. There are numerous benefits to adopt your next pet from a shelter.
In most cases the animals will be up-to-date on their vaccines and altered. Some shelters may even provide dog and cat insurance coverage upon adotion.
Adopting a shelter pet is one of the best ways to acquire a new pet for your family. Animals often end up at the shelter when their families can no longer care for them, or they are rescued from poor living conditions. A shelter should be one of the first places you look for a new pet.
Shelters have animals ranging in age from new born puppies and new born kittens to older animals. If you are looking for a pet that is past the puppy and kitten stage, an adult pet makes a great choice. Adult pets are usually house trained and may even be obedience trained.
Once you have adopted your new pet, be sure to take them to your veterinarian. If you have adopted a new pet, it is good idea to enroll them in an obedience class and start looking into pet insurance if you don't yet have it. Be sure to ask your veterinarian or trainer for pet behavior tips to practice at home.
The most important thing to remember is that a pet is a lifelong commitment. Don't adopt a pet unless you are committed to keeping the pet permanently.