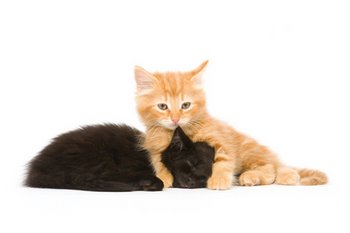 The American Humane Society is once again celebrating Adopt A Shelter Cat month throughout June to highlight the issues facing cat rescue shelters and to promote the adoption of shelter cats.
Most of the pets available from these shelters are healthy cats and kittens that need owners to love and care for them. Upon adoption many pet owners will begin researching the best pet insurance plan for their new cat. In return, these feline friends offer unconditional love and affection and a lifetime of purrs and cuddles for their lucky human owners.
Prospective adopters should consider certain factors before selecting their next pet, including:
-Age and temperament of the cat
-Environment inside the home (including any other pets already living with the family)
-Activity levels and available time of family members.
Cat vs. Kitten
While kittens are cute and cuddly, they typically require far more attention than adult cats and may need training in order to adjust well to their new environment. However, it may be more difficult for adult cats to find homes, so taking home a stable, loving adult cat may be a wise and humane decision for potential adopters. When taking age into account, a pet owner should also ask cat insurance companies if there are any upper age limits. Companies like Pets Best Insurance don't have upper age limits, and will cover a pet so long as it is seven weeks old.
Social Environment
Most cats do better in a household with at least one other cat. In the wild, cats live in colonies and are highly social creatures; as a result, they require a great deal of contact with humans and other animals within the home in order to be happy and healthy. While cat rescue shelters and foster homes make every effort to ensure the well-being of their cats, ultimately cat health and happiness depends on having a dedicated and attentive owner to care for its physical and emotional needs. By adopting two cats or kittens at the same time, most owners find that their pets bond well and interact with other in the household in a more healthy way.
Activity Levels
Just as people may have widely differing personalities, cats can vary widely in their temperaments and activity levels. Some cats are lovable couch potatoes, content to snuggle up with their owners for hours on end. Others may perform acrobatics and engage in amateur clowning, demanding constant attention from their humans in return for entertaining them. By choosing a cat whose temperament complements their own, owners can ensure that their new pet is the perfect fit for their household.
Cats and kittens require veterinary care in order to grow and remain healthy and happy. Cat insurance is a solid investment for new owners, since it offers financial security even if serious health problems arise.
Pet insurance is typically a cost-effective purchase, as it usually covers much of the cost of typical veterinary procedures and emergency care. Purchasing health insurance for cats is one of the most practical ways of ensuring the health and happiness of the newest addition to the family.