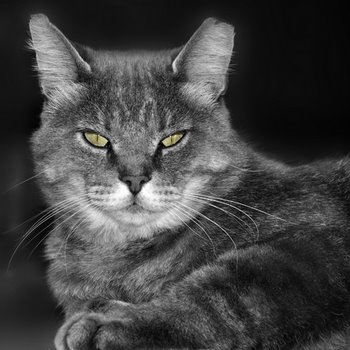 By: Dr. Jane Matheys
Associate Veterinarian
The Cat Doctor Veterinary Hospital
For Pets Best Insurance
Pets are living much longer lives these days due to the advances in veterinary medicine– this is one of the many reasons that dog and cat insurance have become so popular.
With increased life spans, however, come chronic illnesses like osteoarthritis (OA). Cats are graceful, agile and athletic creatures, but as they age, their joints, ligaments and bones are prone to wear and tear just like in people. OA is a commonly recognized disease in dogs, but it is only recently that veterinarians have begun to appreciate what the true incidence of OA might be in cats. It appears to be much more common than previously thought, and could be a major cause of discomfort, especially in cats over ten years of age.
Or Call 877-738-7237 to Speak with a Pets Best Insurance Agent to Add a Pet to Your Current Policy
Osteoarthritis is a degenerative condition of the joints where normal cartilage that cushions the joint is worn away, exposing the bone and resulting in pain as adjacent bones rub against each other. It can cause decreased joint movement and even formation of bone spurs and other changes around the joint.
Clinical signs of OA in cats include weight loss, loss of appetite, depression, change in general attitude, poor grooming habits, defecation or urination outside the litter box, and inability to jump on and off objects. Lameness is relatively uncommon because joints on both sides of the body are frequently affected, allowing cats to compensate and appear to be walking normally.
The hips and elbows are the most frequently affected joints in cats. The most common complaint that I hear is that the cat is having a harder time jumping up onto the bed or sofa and takes the stairs more slowly or one step at a time. The cat may also seem a little stiff in the joints, especially after just getting up from sleeping.
Diagnosis of OA in cats is difficult even for the experienced veterinarian, and the disease remains largely underdiagnosed and undertreated. The problem is that cats are masters at hiding discomfort and do not readily demonstrate obvious signs of pain. Cats generally dislike being physically handled and manipulated during examinations, so it can be very difficult to determine if a cat is pulling its leg away because of pain or simply because it doesn't want to be touched. Cats are also famous for hunkering down on the exam table and remaining immobile and reluctant to walk around the exam room for observation of gait.
Radiographs (x-rays) can be used to try to diagnose OA in cats, but they can be misleading. In many cases, cats with OA have no radiographic changes indicative of the disease. Studies have shown that if radiographic changes are present, they may not correspond to the degree of OA in the joints. Painful joints do not necessarily correspond to radiographic findings. Due to these obstacles in diagnosing OA in cats, veterinarians will often simply rely on the cat owner's observation that their pet is not moving around like it used to. Veterinarians will often make the diagnosis of OA by treating the cat for the disease and seeing if the owners note any improvement in the cat's quality of life.
Weight management is the first thing that must be addressed in cats with OA. Obesity does not cause OA, but it will exacerbate the condition. Consult with your veterinarian to design a safe cat weight loss program. It may be the most important thing you do for your cat with OA.
Steroids have been used to treat OA in the past, but they've fallen out of favor due to side effects. Non-steroidal anti-inflammatory drugs (NSAIDS) have been life savers for dogs with OA, but, unfortunately, repeated doses of NSAIDS can cause renal failure in some cats. However, for cats with severe OA, NSAIDS may be the best treatment choice. Be sure to discuss the risks and benefits with your veterinarian. Because diagnostic testing can be expensive, I always recommend my clients purchase the best pet insurance they can while their kitties are still young.
Lower dosages should be used, and labwork should be done prior to starting NSAIDS as well as during treatment. Remember to never give your cat any human medications like pain relievers without consulting your veterinarian first.
Nutraceuticals containing glucosamine and chondroitin may be helpful in early or mild cases, but it is important to choose high quality products. The brand product Cosequin* is generally my first line of defense for cats with OA. I've also had good results with an injectable form of a similar product called Adequan. Other drugs being used include buprenorphine, tramadol and gabapentin. Acupuncture can be extremely effective for OA and is becoming more widely accepted.
Adjustments to the home environment are vital to improving the cat's quality of life and can be just as important as medications. Provide soft beds in easily accessible, warm, sunny spots. Place litter boxes and food and water dishes where your cat can reach them easily. You may need to find litter boxes with lower sides. Provide steps or ramps up to higher sites like beds or sofas. Many cats with OA have difficulty grooming, so gently brushing the fur and cleaning the rectal area may be necessary. Work with your veterinarian to design a specific management program to meet your cat's needs.
*Pets Best Insurance policies do not cover Cosequin.