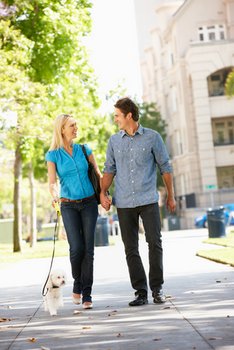 By Chryssa Rich
For Pets Best Insurance
Pet owner or not, you've likely tracked dog poop into your car, your office and probably even your home. And for that reason, it's quite possible that society's top complaint about dog owners is that we don't always clean up after our pets. "I always pick up my dog's messes!" you may say. But until we all do, every single time, we're all guilty.
In addition to being a smelly nuisance, there are real pet health as well as human health reasons we need to pick up after our dogs every time:
• Dog feces can harbor bacteria like Salmonella and parasites including hookworm and tapeworm.
• Unlike cow manure fertilizer, which has been composted and aged for six months, dog doodie won't add anything good to your yard
• Unscooped poop will eventually make its way through the ground and to our water sources, along with its bacteria and parasites
Furthermore, for pet health reasons it's important we keep tabs on our dogs' business. Any change in color, texture or frequency can signal illness.
Last year I came across a great little contraption in the pet store and immediately wondered why all dog owners don't use it. It's cute, cheap, lightweight, easy to refill and extremely convenient: the doggie duty bag dispenser. It only weighs a couple of ounces, contains a whole spool of bags and attaches to practically anything. Mine lives on the handle of Jayda's leash.
The holders are available in a variety of colors and shapes. I've seen monkeys, giraffes, tie-dyed bones and dog houses, to name a few. They can be bought at pet stores, grocery stores and drug stores. Dollar stores carry refill bags, or for a little extra, you can opt for biodegradable bags to show our Earth a little more love.

Or Call 877-738-7237 to Add a Pet to Your Current Policy
Pick up a few of these bag dispensers, attach one to each of your dog's leashes and leave one in each vehicle. You'll never be caught trying to scoop your dog's mess with dead leaves or cover it with rocks again. You'll never find yourself in a crowded park with a guilty look, trying to explain to passersby that "My dog already pooped once, I brought a bag, I swear!" You'll also be doing your part to keep floor mats and carpets smelling clean and fresh across America.
Have you been caught bagless? Tell us in the comments how you cleaned or concealed your dog's unexpected mess!
For more information about pet health or to learn more about pet insurance visit Pets Best Insurance.