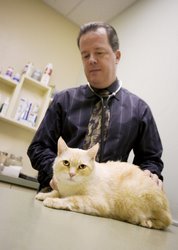 Posted by: H.R.
For Pets Best Insurance
One of the biggest reasons why cat insurance can be life-saving: an unexpected incident can leave even well cared for pets in danger.
On a cold, snowy, day in January of 2004, Jenny Brandhorst was traveling from Iowa to Chicago with her kitten Wrigley in tow. Jenny had no control over the weather, but the one mistake she made was letting Wrigley roam free in her car during the drive.
After losing control of her Jeep, Jenny and Wrigley were trapped on a horrific ride as the spinning, rolling vehicle eventually slammed into a stone embankment. Jenny was rescued, but Wrigley was nowhere to be seen. Thirty hours later, despite being in terrible pain, a battered Jenny returned to the scene of the accident to search for her beloved cat.
"I'm overjoyed to say that after a grueling search in the wind, snow, and cold, I found the little guy after mistaking him for a cluster of oddly shaped rocks in the distance," said Jenny. "He was half-frozen and his face was bloody."
Jenny fell to the ground and clutched him in her arms. Wrigley purred, the one mechanism he still had left to relieve pet stress.
At the time, Jenny didn't have pet health insurance. Wrigley only survived thanks to the kindness of her parents, who had the means and cared enough to pay for the vet bills.
The cost of Wrigley's care grew exorbitantly during a month-long stay at the veterinary hospital. His front left leg was broken; a metal rod was inserted to set the bone straight. Frostbite had damaged his tail and left ear so badly, portions of both needed to be amputated.
Jenny had a new appreciation for driving, crate, and leash safety, and has begun pet insurance company research. Many pets aren't as lucky as Wrigley after 30 hours in the snow, but thankfully, he and Jenny have both recovered and share a beautiful bond today.