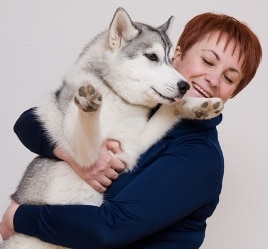 February is Responsible Pet Owners Month. Being a responsible pet owner can mean a lot of things, so we asked our guest veterinarian Pets Best Insurance bloggers, "What are the top things a great pet owner should do or know?" Here's the combined list from Dr. Marc Edward, Dr. Fiona Caldwell & Dr. Jane Matheys.
1) Do your homework before adopting or purchasing a pet
Make sure you understand the commitment required in owning a pet, some dogs and cats can live 15- 20 years (sometimes longer!). Pet ownership has on-going financial costs: from food, supplies, veterinary care and medicine. Owning a pet also takes time: make sure you have the time to properly train your pet, to exercise your pet and meet the emotional needs your pet may require. Make sure you choose the best pet to fit your lifestyle and home situation.
2) Spay or neuter your pet
It's a shame how many healthy but homeless animals are euthanized each year at the shelters due to pet overpopulation. Be part of the solution. Many low cost options are available, for instance through the Humane Society.
3) Get Annual Exams
Commit to annual examinations with a veterinarian, even if vaccinations aren't due. Abnormalities are found all the time on routine physical examinations that owners hadn't been aware of.  This allows treatment to be instituted before it becomes a bigger problem.
4) Prevent Preventable Diseases
For example, keep pets from becoming overweight by feeding a high quality food in appropriate amounts and limit treats and table scraps. Brush teeth regularly and have regular professional dental cleanings done to prevent periodontal disease. Use a parasite and heartworm preventive.
5) Expect Your Pet to Need Medical Care
Be prepared and listen to your vet. This may be something as straight forward as dental disease or an ear infection, or could be as complicated as cancer or severe trauma. It is very important that each pet owner establish a good relationship with a veterinarian that they trust to help treat these problems. It is also important to understand that to diagnose and treat some of these issues can be very costly.
6) Plan Ahead Financially
Dogs and cats can face veterinary emergencies despite the best care given.  It is impossible to prevent and plan for every scenario!  Pet insurance allows owners to focus on getting their pet the treatment they need, rather than worrying about how much it is going to cost. It's important to budget for pet care, so you never have to consider euthanizing your pet because medical bills are too expensive.
Learn more about getting your pets insurance at www.petsbest.com/pet-insurance-plans.

Or Call 877-738-7237 to Add a Pet to Your Current Policy