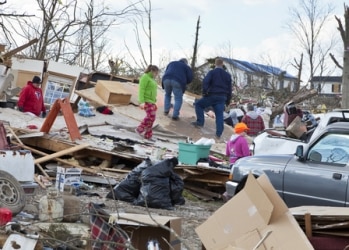 By Arden Moore, a certified dog and cat behaviorist with the International Association of Animal Behavior Consultants. Arden is an author, radio host, and writer for Pets Best, a pet insurance agency for dogs and cats.
No zip code is safe when Mother Nature unleashes her nasty side. But you can take steps to protect yourself and your pets from hurricanes, tornadoes, flash floods, wildfires and other natural disasters.
You can never over prepare. Some natural disasters, such as tornadoes or house fires, can strike quickly. All pets should be microchipped and sport identification tags on their collars that include your cell phone number. Also, keep a photo on your phone and in your vehicle's glove box that depicts you with your pets in case you become separated. This makes for easier identification and reunions.
In recognition of Animal Disaster Preparedness Day on May 10th and the last week of May recognized as Hurricane Preparedness Week, here are five tips to prepare in case a natural disaster strikes.
1) Have a backup for your backup plan
In advance, know two or three safe places you can go to before you need to evacuate. Additionally, plan multiple routes to reach these destinations. These can be pet-welcoming hotels, the homes of friends or relatives, or pet-permitted emergency shelters.
2) Turn your vehicle into a safety storage zone
Stash a waterproof container in your vehicle that contains a pet first aid kit, large towel, copies of your pets' veterinary medical records, bottled water, canned food, spare leashes, slip leads and collapsible bowls. Also include cotton socks or doggy booties to protect your pet's paw pads from sharp objects, toxic debris or hot embers during a natural disaster. Don't forget to pack a human disaster kit that includes three days' worth of food and water, any needed medications, flashlight with batteries and first aid kit.
3) Practice doggy drills
Conduct mini-training sessions with the goal of reducing the time it takes to safely harness or crate your pets and get them safely inside your vehicle. Make these drills fun by speaking in upbeat tones and offering bite-sized healthy treats as rewards to reinforce desired behaviors by your pets.
 4) Throw the towel on your cat
The safest way to fetch your cat during an emergency evacuation is to wrap her in a thick bath towel or place her in a pillow case. Never attempt to hold her in your arms or scruff her by the back of the neck – cats have flexible spines and can pivot and bite and scratch you and wiggle free and disappear.
 5) Keep your cool
Pets often react to our moods. Approach them calmly during an evacuation to reduce their chances of fleeing or hiding or becoming aggressive out of fear. Once secured, keep them in a safe and quiet place during the weather emergency whenever possible.
 6) Keep them contained until the coast is clear
Lastly, after a natural disaster keep your pets on leashes or inside carriers until you have surveyed your surroundings and ensured the storm has completely passed.
Protect Your Pet with Pet Insurance

Get an Instant Quote Online
or Call Pets Best at 877-738-7237