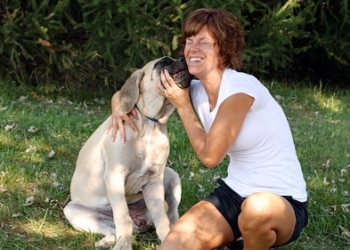 1. Pets encourage physical activity
Dogs and cats of all ages give us reason to get off the couch and move. Whether you're dangling ribbon for a cat, sprinting around the dog park with a puppy or taking a leisurely stroll with a senior dog, pets contribute to a more physically active lifestyle.
2. Pets can lower your blood pressure, heart rate and cholesterol levels
Pet owners often find that after a long or stressful day, coming home to a purring cat or playful pup is all it takes to relax and live in the moment. Many studies suggest that the simple act or petting an animal or hearing a cat purr can lower your blood pressure and regulate and slow your heart rate. The benefits of these changes include reduced risk of stroke, heart attack and heart disease.
3. Pets increase opportunities for socialization
Most people agree it's almost impossible to see a friendly cat or dog without smiling and giving it a pat on the head. Pets often become the center of attention at home when entertaining or even out on the town. They make it easier for people to laugh, smile and start conversations with each other.
4. Pets help in the healing and recovery process

Scientific research has shown that the presence of a pet has a positive impact on people who are hospitalized or dealing with a serious illness. An oncologist at the Mayo clinic feels so strongly that "a pet is medication without side effects that has so many benefits," that he records the name of a patient's pet when taking a medical history.
5. Pets help reduce Alzheimer's symptoms
In seniors struggling with Alzheimer's, the presence of a pet has been shown to decrease aggressive and anxiety-driven outbursts. Pets also help increase social interaction and ease feelings of disorientation. These benefits can be experienced even if the patient doesn't live at home – regular pet visits in a nursing home are just as beneficial.
Your pet helps keep you healthy, so why not return the favor? Pets Best  pet insurance plans can help you afford the best veterinary care when your pet needs it most.
 Get a Quick, Free Quote Online or
Call Pets Best at 877-738-7237