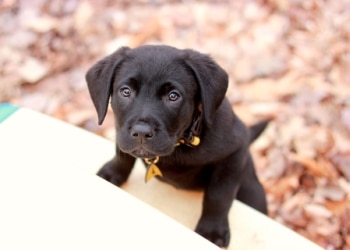 By Arden Moore, a certified dog and cat behaviorist with the International Association of Animal Behavior Consultants. Arden is an author, radio host, and writer for Pets Best, a pet health insurance agency for dogs and cats.
Congratulations on adopting a puppy! The quicker you instill a clear, concise and consistent training regimen, the faster the chance that your overly energetic puppy develops into a mature, well-behaved dog.
Think of your fast-growing puppy as a sponge, soaking up all experiences inside your home and outside during walks and outings. Experiences – fun and frightening – are being downloaded by your pup. He needs and depends on you for guidance on how not to panic.
Set your puppy up for success by socializing him properly and teaching him how to play with a purpose. The sooner you can introduce fun and positive learning to your puppy, the less likely it is you'll have to deal with serious behavior problems when he reaches adulthood.
Looking for fun ways to socialize your puppy? Once your puppy has completed his set of puppy vaccines to bolster its immune system, consider these five outings:
1. Spend 15 minutes once a week in front of your supermarket with your puppy. This busy place provides the perfect place for your puppy to meet all types of people, including hat-wearers, those with beards, little children, and individuals in wheelchairs. Make sure your puppy is sporting a harness and is leashed.
2. Bring your puppy with you to an outdoor café. Sip your favorite beverage while your puppy takes in all the sights, sounds and smells. Be sure to bring a portable bowl, a plastic bottle of water, and a few tasty treats for your puppy. Treat him to a brisk 30-minute walk or run right before entering the eatery to provide a suitable outlet for his puppy energy.
3. Take your puppy with you on quick errands to pick up dry cleaning, or order a quick lunch from a fast-food restaurant drive-thru. Always keep him in a crate in your vehicle or make sure he is sporting a harness that tethers to your vehicle's seatbelt to prevent him from roaming freely while you drive. Keep him safe and teach him from the start that like you, he must be tethered in during drives.
4. Host weekly backyard dog parties with a few of your friends and their well-behaved canines. Select an enclosed yard where you can supervise play. Your puppy gets the opportunity to "learn the ropes" from adult dogs through play.
5. Organize neighborhood dog walks by inviting a few owners and their dogs to join you in a friendly 30-minute jaunt at least once a week. This activity introduces your puppy to different breeds, sizes, and ages of dogs and may lead to lifelong canine friendships.
 Protect Your Puppy with Pet Insurance!

Get a Quick, Free Quote Online
or Call Pets Best at 877-738-7237