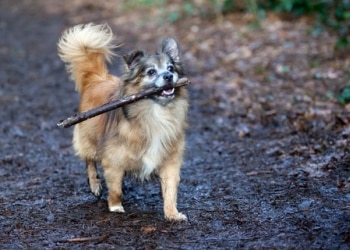 By Dr. Eva Evans, a veterinarian and writer for Pets Best, a pet insurance agency for dogs and cats
Millions of unwanted animals are euthanized every year in the United States, and most of those are adult and senior pets. When you're ready to add a dog or cat to your family there are many reasons to choose a senior pet over a puppy or a kitten. Here are five reasons why senior pets make fantastic family members. See if a senior pet is right for you!
1. What You See Is What You Get
Adopting a senior dog or cat takes the guess work out of the future. You don't have to worry about Fido growing as big as a small horse. There's no question whether Mittens is going to have long hair or short hair, and there's no question whether Fluffy will stay under the weight limit that you apartment complex enforces. Adopting a senior dog or cat allows you to choose exactly the right fit for your lifestyle.
2. Senior Pets Come Pre-Trained
Well, most of the time anyway… A majority of senior dogs at shelters already have good manners and basic obedience training. Many of these pets already know the "Sit, Stay, Lay Down," commands. Best of all, most of them are already house broken or litter box trained. This means less time potty training and more time enjoying walks in the park.
3. Your Shoes Will Thank You
Puppies and kittens are cute, curious creatures. They also go through the teething process, and they love to chew on everything! Young pets are notorious for tearing up shoes, pillows, toys and anything else that tickles their fancy. Adopting a senior pet means that you won't have to constantly keep an eye out for mischievous play. Trust me; your shoes will thank you!
4. Senior Pets are Lower Maintenance
Compared with puppies and kittens, senior pets require a lower time commitment making them ideal for busy families and people who work long hours. They require less training and less supervision than a rambunctious puppy or kitten. Senior pets know the ropes, and they are a lot easier to care for than younger pets. If you have time constraints, but still have the time and energy to commit to an animal, aim for a senior pet.
5. An Abundance of Love
If you've ever rescued a senior pet, you know that they always seem to know how lucky they are. These older pets have an abundant amount of love to give. They are always grateful, and they never fail to show it. Senior pets can quickly transition to a new home and provide an unbelievable amount of love to their new families.
There are thousands and thousands of senior pets waiting to be adopted at local shelters. Older animals are often overlooked by families wanting a puppy or a kitten. Remember these 5 reasons for adopting a senior pet this month and fill your life with lots of warm snuggles and wet kisses from a senior pet.