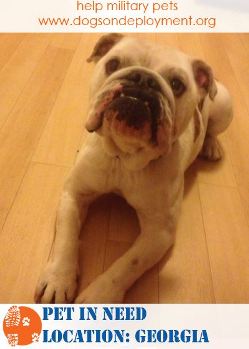 From Pets Best, a nationwide pet health insurance agency for dogs and cats since 2005.
At Pets Best, we know there are many "under the radar" pet charity organizations that go the extra mile to make sure pets are safe, happy and well-loved. These organizations are made up of vet medical teams, pet lovers, and animal activists who devote their time to animals, often on a voluntary basis. So in an effort to raise more awareness of these groups who are bettering the care and health of dogs and cats, here are five pet charities you should know about.
1. Dogs on Deployment
Dogs on Deployment helps U.S. military service men and women find temporary homes for their pets while deployed. Military members can use Dogs on Deployment's online network to search for volunteers who will board their pets. Pet owners have peace of mind that their pets are safe and have a temporary loving home, especially while serving long tours overseas.
Dogs on Deployment also advocates on behalf of military pet owners. During emergency situations, they provide educational resources, rescue programs, and financial assistance for military pet owners. Dogs on Deployment not only assist active duty military but helps reservists, veterans/wounded warriors, and military families.
To learn more about their great work, go to dogsondeployment.org.
2. Alley Cat Allies
Alley Cat Allies is a national feline advocacy organization that fights for the protection and humane treatment of stray and feral cats. For over 20 years, Alley Cat Allies has made it their mission to educate the public about saving and protecting cats through outreach and grassroots efforts. In 1990, Alley Cat Allies was founded by two women who noticed that feral cats' needs were overlooked by pounds and shelters. Well-meaning citizens called pounds and shelters about feral cats but as a result, they were euthanized.
Because of their hard work and dedication, communities across the country now have a better understanding and respect for the lives of cats. Alley Cat Allies' biggest accomplishment is the national movement to end the unnecessary killing of feral and stray cats. They advocate for accountability of U.S. pounds and shelters, including documentation of animal intake and kill rates in pounds and shelters.
For more information about programs and services, check out alleycatallies.org.
3. Pilots N Paws
Pilots N Paws is dedicated to saving the lives of innocent animals. Their website connects volunteer pilots with people who rescue, shelter or foster animals that are in need of an out of state transport. People sometimes want to adopt dogs and cats that aren't located in the same state. Those who are in need of a cross-country pet transport coordinate itinerary details with a volunteer pilot/plane owner. Volunteer pilots then transport these rescue animals that have limited time in kill shelters to their "forever" loving homes.
Pilots N Paws is comprised of 5,000 volunteer pilots who have transported 65,000 pets to their new homes. The average distance for an animal transport is about 350 ground miles and pilots travel all across the United States.
If you want to adopt a rescue pet that it is located out of state or you're a licensed pilot interested in volunteering, go to pilotsnpaws.org.
4. The Pets for the Elderly Foundation
The Pets for the Elderly Foundation provides animal companionship to lonely seniors (60 years and older) through pet ownership. Seniors provide a loving home to a dog or cat while saving the lives of shelter animals that might otherwise be euthanized. The organization pays a participating animal shelter the adoption fees on behalf of senior citizens. They also pay the costs of pre-adoption vet exams and spay/neuter fees.
The organization began in Cleveland, Ohio (with just two shelters) and has grown nationally since 2002. The organization now has 46 animal shelters in 27 states that participate in the program. The Pets for the Elderly Foundation has successfully placed over 57,000 companion animals with seniors.
If you're a senior (60 years and older) who's interested in adopting a companion dog or cat, visit petsfortheelderly.org.
5. Patriot PAWS Service Dogs
Patriot PAWS trains and provides high quality service dogs – at no cost – to disabled American veterans and others with mobile disabilities and PTS. A Patriot PAWS service dog helps people with disabilities restore their physical and emotional independence.
Service puppies enter a prison training program through the Texas Department of Criminal Justice. Inmates are trained and supervised by a Patriot PAWS professional dog trainer. After puppies undergo basic training, volunteer puppy raisers continue training dogs in their home. They expose the dogs-in-training to different experiences so they learn how to behave in public and feel comfortable around children. Patriot PAWS staff trainers work closely with volunteer puppy raisers to customize a service dog's training to fit veterans' special needs. The total training time for a Patriot PAWS mobility service dog is 18 months to two years.
Patriot Paws is a national non-profit charity that relies on 100% funding from private donations, corporations, and assistance from their volunteers. Service training and caring for the dogs costs approximately $33,000 per dog.
To learn more about Patriots PAWS, go to patriotpaws.org.
Our Best Content, Delivered Monthly