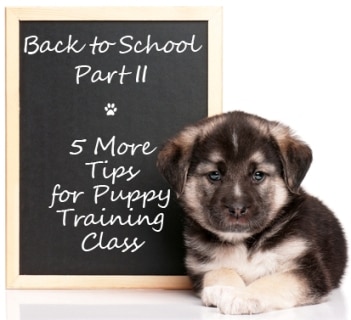 By Arden Moore, a certified dog and cat behaviorist with the International Association of Animal Behavior Consultants. Arden is an author, radio host, and writer for Pets Best, a pet insurance agency for dogs and cats.
1. Wear casual, comfortable clothing
Grass-stained and muddy knees can be quite common. Not to mention scrapes and scratches from excited dogs. Stick with sneakers or other low-heeled, comfortable shoes.
2. Don't wear sunglasses
If the class is during the day, try wearing a hat to block out the sun. Your puppy needs to see your eyes at all times to grasp your messages.
3. Hand out itty-bitty portions
Use mini portions of a treat your pup loves. You want to give your dog a taste of the reward, just enough to swallow in a few seconds. At first, give treats for every mini-success, because puppies have a short attention span. Don't wait until you puppy completes all tasks before rewarding with a tiny treat.
4. Be brave
Ask what you think are dumb questions. What you perceive to be strange behavior in your puppy may be shared by someone else in your class who is too shy to ask.
5. Keep your puppy on a leash
Unless otherwise instructed by your trainer, keep the leash on. And give yourself enough space so that your nosy puppy can't reach other classmates.
This is the second article of a two part series. Be sure to read Part 1: 4 Tips for Puppy School Success
This article has been adapted from its original version in Arden's book, The Dog Behavior Answer Book.
Protect Your Puppy with Pet Insurance!

Get a Quick, Free Quote Online
or Call Pets Best at 877-738-7237