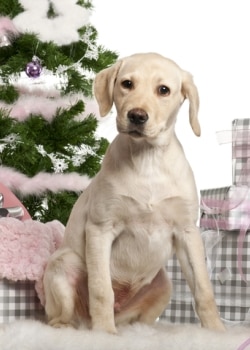 By Dr. Fiona, a veterinarian and writer for the pet health insurance agency, Pets Best.
Not sure what to get your dog(s) for the holidays? Here are five great gift ideas to say thanks to the pups in your life for their unconditional love all year long. You'll make their tail wag and several of the items double as a gift for you!
1. Dental chew toys
Dental disease is one of the most common preventable diseases seen by veterinarians. There are toys available that your dog chews on which are designed to remove plaque and prevent tartar formation. This can help stop the progression of dental disease and freshen breath. The added bonus of this is your dog's better breath when they get in your face to give you kisses – wanted or not! Your local dog store can help you find a dental chew toy that will be best suited for your dog(s).
2. Bowls designed to slow eating
When dogs gulp their food down quickly they often aren't chewing the kibble. Chewing on their kibble can actually help prevent periodontal disease by removing plaque and preventing tartar. In addition, eating quickly can cause excessive air to be swallowed by your dog which then leads to them having gas. And really, no one likes dog gas. There are bowls that are designed to slow down your dog's eating. With the benefits of eating slowly, both you and your dog will be getting a gift! Your local dog store can help you find a slow eating bowl that will work best for your speed eater dog.
3. Treat Puzzles
There are many educational toys for dogs that require them to 'work' for a treat. These usually require the pet to figure out how to open compartments, or tinker with the toy until they are rewarded with the treat. Educational toys are great because they reduce boredom and increase cognitive functions. These toys are a perfect gift for all dogs, however those that will benefit the most are puppies, working breeds that need mental stimulation, and senior dogs. Educational toys can help slow the progression of Canine Cognitive Dysfunction in older pets, which is a little like Alzheimer's disease. Your local dog store can help you find the best puzzle toys for your dog.
4. A canine photo shoot
Celebrate your love for your pet than by capturing a picture of them. Take photos of your dog(s), or have a photo shoot done with the whole family. Or use one from the hundreds you probably have on your cell phone! There are tons of photo gift options available these days. From simply framing the photo, to making it an art print on canvas, to making a custom iPhone case, to putting a picture of your dog's mug on a mug.
5. Pet Insurance
Give the gift that keeps giving! Studies show that people with pet insurance visit the veterinarian's office more regularly. Regular veterinary visits will help keep your pet happy and healthy. Pet health insurance will help ensure your dog receives the best veterinary care by alleviating the stress of the hefty bill that often accompanies it.
Protect Your Dog with Pet Insurance this Holiday Season 

Get a Quick, Free Quote Online
or Call Pets Best at 877-738-7237