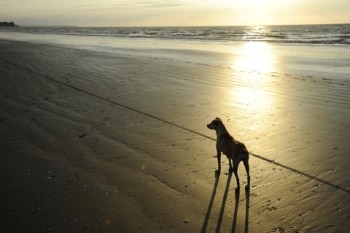 Coleen Ellis, from the Two Hearts Pet Loss Center, is a Guest Blogger for Pets Best Insurance
Many people wonder what a funeral or ritual ceremony looks like for a pet?  While it may sound like a bit of an oddity, trust me, people have been doing it for years.  From Marley and Me when the kids were out in the back yard burying Marley and saying their final few words to a child who's stood by the small grave site of their favorite little varmint and spoke from the heart, a ritual ceremony for a pet is not really anything new.
What might be a new twist is the formalization of a memorial ceremony.  With so many people wanting to honor the life they shared with their precious pet, taking the time to reflect, remember and pay tribute to a pet with other friends and family is becoming more and more common.
There are five elements of creating a memorial ceremony for a pet.  These elements are:
1) Where will you have the ceremony?
Get creative as a place is chose for the ceremony.  Think about those favorite bark parks or river banks where the pet liked to play.  Or possibly it is the back yard where the pet spent so many of their days, romping and running.
2) Who will be invited?
Are there family and friends who, too, were close to the pet?  Or possibly the neighbors who saw the pet daily as they played in the back yard? Also think about the pet sitter, the groomer, the doggie daycare owner, and the veterinary clinic.  They loved your pet, too.
3) What will the layout of the service look like?
There are a variety of poems and readings that eloquently sum up the love, and grief, we feel for our pets.  Rainbow Bridge is an amazing story that provides the element of hope that all pet parents look for in the loss of their pet.  If your family is spiritual, turn to those special biblical readings.  Don't forget to think about including music in the ceremony.
4) Will the pet's body or the pet's urn be present at the ceremony?
Some people will have their pet's body in such a state that it can be present at the ceremony, placed lovingly in a casket or on the bed that they have slept on for years.  Others may just want the urn or a photo of the pet to be the focal point of the service.
5) What will be given to those attending the service?
Many people will have a printed layout of the service.  Also consider asking the attendees for donations to local shelters, in memory of your pet.
—
Please note, pet insurance does not cover these activities, however we feel these ideas are important to share to help during the difficult time of losing a pet.

Or Call 877-738-7237 to Add a Pet to Your Current Policy