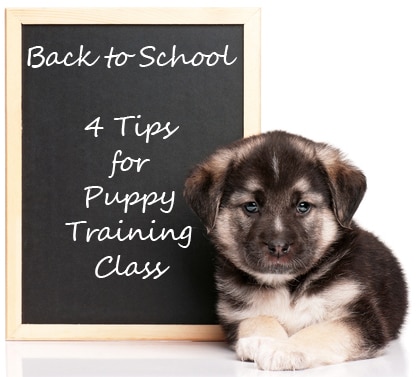 By Arden Moore, a certified dog and cat behaviorist with the International Association of Animal Behavior Consultants. Arden is an author, radio host, and writer for Pets Best, a pet insurance agency for dogs and cats.
1. Take your puppy for a walk
Walk for 20 – 30 minutes before arriving at your class. That way your puppy will have unleashed some of their energy and excitement.
2. Arrive 5-10 minutes early
This will allow your puppy to satisfy their uncontrollable need to meet and greet other classmates (both people and other puppies) and to have time to go potty one more time. Many puppy classes have socializing as part of the lesson plan. For those that do not, this "play preview" can help the pup work through their excitement.
3. Don't feed before class
Depending on the time of the class, wait to feed your puppy dinner until after the class or feed them only a half portion, saving the rest for later. Hungry puppies are more motivated to perform for treats in class and won't need an urgent potty break.
4. Keep your hands free
By stashing your belongings in your pockets, or leaving them in the car, your hands will be free to handle the leash, dole out treats and give clear hand signals to your puppy.
This article has been adapted from its original version in Arden's book, The Dog Behavior Answer Book.
Protect Your Puppy with Pet Insurance!

Get a Quick, Free Quote Online
or Call Pets Best at 877-738-7237