By: Leigh A. Peterson
For Pets Best Insurance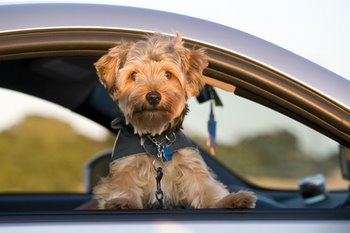 Thinking of taking Fifi the calico or Rufus the Golden Retriever to grandma's for the holidays this year? Taking our pets with us on trips can be a joyful experience. We get to see a different side of their personalities as they explore new surroundings and meet new people. They can offer us comfort at lonely times away from home. But there are many things to keep in mind when traveling with pets. Here are a few pet health issues you may need to consider.
1. Review your pet health insurance policy.
Does it allow you to visit a different veterinarian? Will it cover your pet out of state? Out of the country? Will it cover emergencies and after-hour visits? Trusted companies, like Pets Best Insurance, that offer pet care health insurance will allow you to select any veterinary clinic of your choice.
2. Plan meals in advance.
Is there a store near where you are going that sells the food you currently feed your pet? If they are used to eating a certain brand, you'll want to keep feeding that same food throughout the trip. Traveling can be stressful, and stress can cause everything from tummy upset to lack of appetite. Switching pet food suddenly could make matters worse.
3. Keep pets leashed or crated while on the road.
When in the car, resist the urge to let your pet roam free. Not only could this cause pet health injuries, but if heaven forbid an accident occurs, they are liable to run away in fear! A slinky cat or pushy pup could also slip out an open car door in the blink of an eye if you stop at a rest area. Buck up through the pitiful cries for attention and tell them, and yourself, that they are being contained for their own safety.