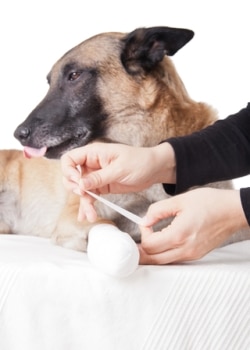 By Dr. Fiona, a veterinarian and blogger for dog insurance and cat insurance provider, Pets Best Insurance.
1. Bite wounds
Dogs and cats can get bite wounds from many other animals. Especially in the summer months when they're out and about, and encounter other animals more often. If your dog or cat receives a bite wound, immediately clean the bite wounds with clean water, hydrogen peroxide or diluted betadine.  Avoid alcohol, as this will sting!  Make an appointment to see your veterinarian, because most puncture wounds will get infected without antibiotics.
2. Lacerations (a.k.a. cuts, tears and rips)
Treat a laceration similar to a bite wound, clean the wound well with clean water or hydrogen peroxide. Apply gentle pressure to the wound to help stop bleeding. Most significant lacerations will require stitches to heal. Don't use hydrogen peroxide more than once or twice, as it can damage the new healing skin cells.  Triple antibiotic ointment is safe to use on pets if the wound is superficial.
Pet Parents, Get Our Monthly Free eNewsletter!
3. Strains/sprains
If your dog or cat gets a sprain or strain, discourage him or her from continuing to use the leg.  If you can determine which joint it is, icing the area can be helpful. Try 10 minutes at a time if your dog will tolerate it. Try to encourage strict rest for a few days; if the limp persists, you'll need to get your dog into the veterinarian. Never give over the counter pain relievers to dogs or cats, as these can be toxic to them.
Always use good common sense with dog and cat injuries and treating them. If you have questions or concerns, call your veterinarian. Also, consider pet insurance as a way to provide the best medical care in the case of an emergency or accident.
Get a Quick, Free Quote Online or
Call Pets Best at 877-738-7237