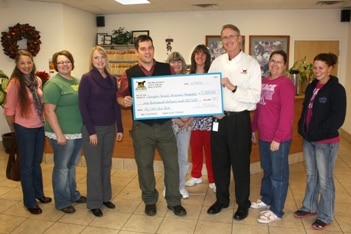 Pet Insurance Agency Pets Best Insurance Names Dr. Brett Bauscher Third-Quarter Winner of 2012 My Vet's the Best Contest
Pets Best Insurance, a leading U.S. pet insurance agency, announces Dr. Brett Bauscher of Caldwell, Idaho based Canyon Small Animal Hospital as its third-quarter winner in the 2012 My Vet's the Best contest.
Boise, Idaho – November 30, 2012- Dr. Brett Bauscher has been selected as the most recent winner of the Pets Best Insurance My Vet's the Best Contest, after receiving a nomination from Hannah Woodward and a winning number of online votes amongst him and five other nominated veterinarians from around the country. The other finalists were Dr. Rene Lefranc of  Columbus, Georgia; Dr. Irvin Ingram of Phoenix, Arizona; Dr. Deanna Tickle of Burlington, N.C.; Dr. Monique Weldon of Centennial, Colorado; and Dr. Glen Roiland of Amityville, N.Y.
Hannah Woodward nominated Dr. Bauscher because of his selfless work on behalf of her dog "Kaya." Kaya had experienced a number of health issues including parvo and a broken femur. Dr. Bauscher's flexibility regarding finances was invaluable for Hannah and her husband, who are a younger couple just getting established.
"We love Kaya like our own kid," says Hannah, "and without Dr. Bauscher, there have been several occasions where we don't know what we would have done, or if she would even still be with us today."
Dr. Bauscher  notes that the depressed economy has been a road block for many in the area when it comes to treating sick or injured pets, and says this award will allow him to step in and provide care that otherwise could not be afforded. He added that he was honored and humbled by the efforts his clients put in to achieving this, and hopes that he can continue to meet and exceed their expectations. "Winning this award is a special gift given through the thoughtful nomination by Hannah, and by the support of so many special clients," says Dr. Bauscher. "It has come at a time in my career when the need is great, not because of personal financial need, but because of the difficult times we have all been through in the last 4 years."
The pet health insurance agency first launched My Vet's the Best in 2011 and expanded it in 2012 to include even larger prizes. The contest began on January 1, 2012 and continues throughout the year.
President and Founder Dr. Jack Stephens said Pets Best Insurance created the My Vet's the Best contest to recognize stellar veterinarians across the nation who have exceeded their clients' expectations in every way possible.
"As a veterinarian, I know what it's like to want to help an animal that can't receive treatment because of the cost associated with veterinary care. That's why this contest awards deserving veterinarians with $1,000 provide care for animals in need," Dr. Stephens said.
Pet owners who think their veterinarians have gone above and beyond for their pet are asked to submit their nominations through a form on the Pets Best Insurance Facebook page and website. Each quarter, an internal panel selects six finalists from all received nominations. The six veterinarians and their client-submitted stories are then posted to Facebook for public voting.
Each quarter, the pet owner that has the story with the most votes will receive a $200 cash prize and the winning veterinarian will receive $1,000 for the treatment of animals in need. One grand prize winner will also be selected in 2013. The annual grand prize winner will receive airfare, hotel accommodations and registration for two to the 2013 Western Veterinary Conference, a leading continuing education conference for veterinarians. The 2012 My Vet's the Best contest will recognize a total of four winning pet owners and their veterinarians throughout the year.
More information about the contest, nomination process and rules can be found at: www.petsbest.com/vetpromo.
About Pets Best Insurance
With the goal of reducing economic euthanasia and his commitment to the health and well-being of all pets, Pets Best Insurance president Dr. Jack Stephens founded pet insurance in theUnited Statesin 1981. A true industry visionary, Dr. Stephens presented the first pet insurance policy to famous television dog Lassie. Dr. Stephens leads the Pets Best Insurance team with his passion for quality pet health care and his expert veterinary knowledge. The Pets Best Insurance team is comprised of pet lovers who strive to deliver quality customer service and value.
Pet insurance plans offered and administered by Pets Best Insurance Services, LLC are underwritten by Independence American Insurance Company, a Delaware Insurance company. Independence American Insurance Company is a member of The IHC Group, an insurance organization composed of Independence Holding Company, a public company traded on the New York Stock Exchange, and its operating subsidiaries. The IHC Group has been providing life, health and stop loss insurance solutions for nearly 30 years. For information on The IHC Group, visit www.ihcgroup.com. In states in which Independence American Insurance Company's new policy form has not yet received regulatory approval, Aetna Insurance Company of Connecticut will underwrite policies. Each insurer has sole responsibility for its own products. To determine the applicable underwriter in your state visit www.petsbest.com/underwriter or please call Pets Best at 1-877-738-7237.
For more information, visit Pets Best Insurance at www.petsbest.com or call 877-PetsBest (738-7237). You may also follow Pets Best Insurance on Facebook at www.facebook.com/petsbestinsurance.
Dr. Jack Stephens is available for interviews.
Media Contact:
Scott Kerbs
MassMedia (702) 433-4331 or (702) 324-2961
2863 St. Rose Parkway
Henderson,NV 89052