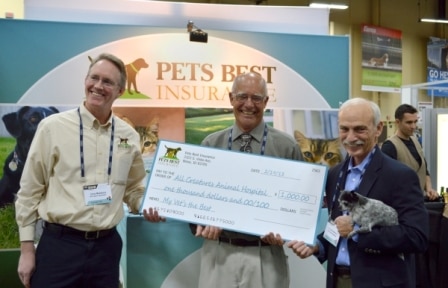 2012 My Vet's The Best grand prize winner to treat animals in need with prize money
Boise, Idaho – (February 20, 2012) Pets Best Insurance, a leading U.S. pet insurance agency, has named Dr. Irvin Ingram as the nation's best veterinarian of 2012. Dr. Ingram, who treats animals at the Phoenix-based All Creatures Animal Hospital, took home the top honors of the 2012 My Vet's The Best contest, which featured more than 20 finalists from across the country.
Developed by Pets Best Insurance to recognize outstanding veterinarians who go above and beyond to keep pets healthy, the 2012 contest culminated today with a presentation at the Western Veterinary Conference in Las Vegas. During the event, Dr. Jack Stephens, the president and founder of Pets Best Insurance, announced Dr. Ingram as the winner of the coveted 2012 My Vet's the Best title and presented the veterinarian with a check for $1,000 to support his charitable work.
Dr. Ingram, who has been practicing veterinary medicine for more than three decades, regularly travels to Arizona's Navajo and Hopi reservations to provide free vaccinations and spaying and neutering services for local animals. He also embarks on trips to Nicaragua, India and other countries across the globe to treat and vaccinate pets in impoverished areas. Dr. Ingram completed his most recent visit to Nicaragua earlier this month, working alongside other medical professionals to control rabies in the area and protect pets and humans from the potentially fatal virus, in addition to providing other services and treatments.
"Pets Best Insurance is thrilled to reward such a compassionate and dedicated veterinarian who shares our company's goal of promoting pet health on a global level," Dr. Stephens said. "Dr. Ingram's charitable work throughout the years has touched the lives of countless animals and pet owners. We are truly grateful for the opportunity to support his noble efforts in the U.S. and abroad."
Dr. Ingram plans to use the prize money provided by Pets Best to purchase vaccines and other supplies necessary for treating animals in Arizona and Nicaragua.
"This prize money will have a tremendous impact on our outreach efforts," Dr. Ingram said, noting that Pets Best Insurance has made additional contributions to support his charitable work.  "I'd really like to thank the people at Pets Best Insurance for their commitment to keeping pets healthy."
In 2010, Pets Best Insurance became the nation's first pet insurance company to develop a contest aimed at recognizing the country's best veterinarians. Each year, hundreds of veterinarians receive nominations from grateful pet owners. While voting for the contest's quarterly winners is open to the public through the Pets Best Insurance website and Facebook page, each year's grand prize winner is selected by an internal review panel composed of respected veterinarians.
As this year's winner, Dr. Ingram frequently receives praise from his patients, many of whom have relied on the doctor's veterinary skills for decades.
"You will never find a more compassionate and devoted doctor," pet owner Judy Johnson said earlier this year in her nomination entry for Dr. Ingram. "He is always willing to go the extra mile for each one of his patients and clients."
While many other veterinarians received nominations from clients this year, Dr. Ingram stood out in a field of highly qualified medical professionals.
"Dr. Ingram received multiple nominations in 2012, underscoring his commitment to making a difference within his community," Dr. Stephens said. "While there were many veterinarians worthy of the top honors this year, we felt confident in choosing Dr. Ingram as the winner. We also look forward to recognizing a new group of veterinarians this year as the My Vet's the Best contest continues each quarter."
For more information about Pets Best Insurance and the My Vet's the Best contest, visit www.petsbest.com.
About Pets Best Insurance
Dr. Jack L. Stephens, President of Pets Best Insurance, founded pet insurance in the U.S. in 1981 with a mission to end euthanasia when pet owners couldn't afford veterinary treatment. Dr. Stephens went on to present the first pet insurance policy ever to famous television dog, Lassie. Pets Best Insurance is the only veterinarian founded and operated pet insurance company in the United States. Dr. Stephens is always available to answer questions regarding veterinarian medicine, pet health and pet insurance. Visit www.petsbest.com for more information.
Pet insurance plans offered and administered by Pets Best Insurance are underwritten by Independence American Insurance Company, a Delaware Insurance company. Independence American Insurance Company is a member of The IHC Group, an insurance organization composed of Independence Holding Company, a public company traded on the New York Stock Exchange, and its operating subsidiaries. The IHC Group has been providing life, health and stop loss insurance solutions for nearly 30 years. For information on The IHC Group, visit: www.ihcgroup.com. In states in which Independence American Insurance Company's new policy form has not yet received regulatory approval, Aetna Insurance Company of Connecticut will underwrite policies. Each insurer has sole financial responsibility for its own products. To determine the underwriter in your state, please call Pets Best at 1-866-929-3807.
Photo: Grand Prize winner receives money to treat needy pets. From left to right: Chris Middleton-Pets Best Insurance COO, Dr. Irvin Ingram, Dr. Jack Stephens-Pets Best Insurance President and Founder.
###
FOR IMMEDIATE RELEASE
Contact:Scott Kerbs
MassMedia (702) 433-4331 or (702) 324-2961