Pets Best Insurance Announces Fourth Quarter Finalists of National My Vet's the Best Contest
Finalists hail from 6 states, previous winner saved stray kitten with contest winnings
Boise, Idaho – (January 17, 2012) Pets Best Insurance, a leading U.S. pet insurance agency, is pleased to announce the finalists for its 2012 fourth quarter My Vet's the Best nationwide contest. The six finalists are:
Dr. Lori Cabell – Metropolitan Veterinary Associates – Norristown, Penn.
Dr. Nancy Matthews – A Cat's View Veterinary Hospital – Valley Center, Calif.
Dr. Helen Campbell – Old York Veterinary Hospital – Florence, N.J.
Dr. Dave Hallstrom – Normandale Veterinary Hospital – Edina, Minn.
Dr. Linda Steelman – Bonanza Cat Hospital – Las Vegas
Dr. Georgia Maureen Bushnell – Redland Animal Hospital – Homestead, Fla.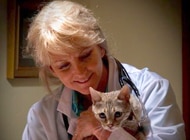 Hundreds of veterinarians from all over the country receive nominations from pet owners who believe their veterinarian has gone above and beyond the call of duty. Nominations – submitted through the Pets Best Insurance website and the company's Facebook page – include heartwarming and at times harrowing tales of why people believe their vet is the best. The fourth quarter nominations were narrowed down to the six finalists by an internal review panel at Pets Best.
Voting on the six finalists is open to the public through Feb. 10, 2013. Voting polls can be found on the Pets Best Insurance website, at http://forms.petsbest.com/vote/and on the company's Facebook page (www.Facebook.com/PetsBestInsurance). Pets Best encourages everyone to cast their vote to determine which of the six finalists should win the fourth-quarter title. The winner will receive $1,000 to treat animals in need, and the nominator will receive $200 as a thank you for sharing their story.
"As a veterinarian, I know how difficult it is to see animals that need treatment, but their owners can't afford it," said Dr. Jack Stephens, the president and founder of Pets Best Insurance, who also founded the nation's pet insurance industry in the early 1980s. "It's the fundamental reason I started pet insurance, and it's the reason we launched the My Vet's the Best contest. We want to recognize veterinarians who are going the extra mile and assist them financially in treating needy animals."
Pets Best awards a My Vet's the Best winner each quarter and an annual grand prize winner; for a total of five winners each year. The winner of the third quarter My Vet's the Best Contest was Dr. Brett Bauscher from Canyon Small Animal Hospital in Caldwell, Idaho. The $1,000 prize money offered to Dr. Bauscher through the contest has already had a significant impact on one stray kitten's life.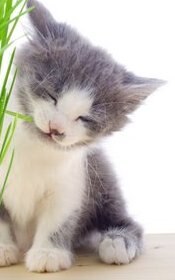 "With a portion of the money, we treated a stray kitten named Smoky who came to us with a ruptured eye," he said. "We had to remove the damaged eye, but Smoky has recovered nicely and has a new home with her adoptive family. This certainly would not have been possible without assistance from Pets Best Insurance."
About Pets Best Insurance
Dr. Jack L. Stephens, President of Pets Best Insurance, founded pet insurance in the U.S. in 1981 with a mission to end euthanasia when pet owners couldn't afford veterinary treatment. Dr. Stephens went on to present the first pet insurance policy ever to famous television dog, Lassie. Pets Best Insurance is the only veterinarian founded and operated pet insurance company in the U.S. Dr. Stephens is always available to answer questions regarding veterinarian medicine, pet health and pet insurance.
Pet insurance plans offered and administered by Pets Best Insurance are underwritten by Independence American Insurance Company, a Delaware Insurance company. Independence American Insurance Company is a member of The IHC Group, an insurance organization composed of Independence Holding Company, a public company traded on the New York Stock Exchange, and its operating subsidiaries. The IHC Group has been providing life, health and stop loss insurance solutions for nearly 30 years. For information on The IHC Group, visit: www.ihcgroup.com. In states in which Independence American Insurance Company's new policy form has not yet received regulatory approval, Aetna Insurance Company of Connecticut will underwrite policies. Each insurer has sole financial responsibility for its own products. To determine the underwriter in your state, please call Pets Best at 1-866-929-3807.
###
FOR IMMEDIATE RELEASE
Contact: Scott Kerbs
MassMedia (702) 433-4331 or (702) 324-2961
scott@massmediacc.com