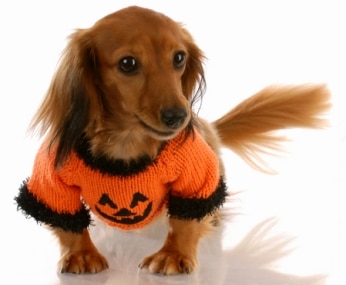 Halloween is the one time a year we get to dress up in silly costumes, eat way too much candy, and acceptably scare one another. However, some people choose to celebrate Halloween all year long and this includes giving their pet a Halloween themed name. We investigated our eerie attic (also known as our database) and in our records of over 155,000 pets we found 15 common Halloween themed names for dogs and cats. Here are the top 15 Halloween names, along with an actual pet who bears the name, keeping these pets in a constant state of Halloween!
Ghost
Stealth and quiet are two words that best describe this particular 15-year-old domestic shorthair. People of Illinois, watch out, a cat-ghost might sneak up on you when you're least expect it.
Spooky
Cats can sometimes disappear for hours, quietly watching their prey as they hide from sight. This 4-year-old kitty in California lives up to his name by spooking the neighborhood mice.
Bones
After consuming last year's Halloween (doggy) treats, two-year-old Bulldog, Bones no longer lives up to his name! However, you can bet he'll be trick-or-treating in his California hometown, again this Halloween.
Monster
A 9-year-old domestic shorthair has a habit of hiding under beds at night. Illinois residents, be sure to check under your bed before you go to sleep tonight!
Trick
A 2-year-old Border collie in Texas will be wear his Halloween best when he goes door to door collecting this year's treats.
Bat
This spry 16-year-old domestic longhair enjoys jumping from one surface to another. Somewhat of a Wisconsin legend, bat cat is constantly on the move.
Candy
Sweet and delightful, this 9-year-old Labrador retriever named Candy, lives up to her name. In her Maryland hometown, she's the (caramel) apple of everyone's eye!
Pumpkin
If you're envisioning a round, orange dog, you are incorrect. Pumpkin is a 13-year-old mixed breed dog who enjoys frolicking through the pumpkin fields on her farm in Washington state.
Magic
We're not referring to the kind of magic show you typically see in Las Vegas, but rather an 8-year-old domestic shorthair. Beautiful and mysterious, this Nevada kitty's favorite holiday is almost upon us!
Banshee
This Floridian Siberian Husky is definitely a vocal dog, but we wouldn't quite compare the 13-year-old to the frightening Banshee's of Irish legend.
Dracula
Lazy by day, and hungry by night, this 7-year-old Pomeranian's owner might want to sleep with one eye open. We advise the people of New York to eat garlic, and lots of it!
Spider
No, this California domestic shorthair doesn't have eight legs, but his trademark move is the "scurry".  At 17-years-old, he's slowed down in many ways, but his spider-like cat moves have proved to be lasting.
Midnight
With his thick dark coat and laser beam vision, this 2-yrea-old mixed breed watchdog sleeps all day and stays up all night to ensure the safety of his New York neighborhood.
Boo
This 10-year-old pug doesn't mean to scare people, but it just comes naturally. Her tiny stature hinders her ability to make her presence known; therefore she regularly startles her owners.
Halloween
Adopted on Halloween, this 14-year-old domestic shorthair has lived a long, happy life growing up in the cornfields of southern Illinois.