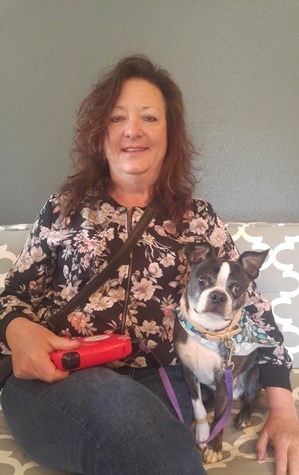 You likely know a veterinarian who has made a powerful impact on your family or in the community. In 2010, Pets Best developed the My Vet's the Best Contest to acknowledge these professionals for their outstanding service and compassionate care. Every year we receive hundreds of submissions from pet owners around the nation, and our first contest of 2017 is no different. We are again pleased to announce our finalists, along with corresponding stories that illustrate the many ways veterinarians are making a difference in their local communities and beyond. Meet Dr. Dawn Sessions.
Now the owner and senior veterinarian at Broadway Vet Hospital, Dr. Sessions began her career on the heels of academic success — she graduated as the valedictorian of her high school, attended Utah's Weber State College for two years, and gained early acceptance into Washington State University Vet School at just 20 years old. Immediately after graduation, she had a baby girl and began working at Selah Vet Hospital near Yakima, Washington, where she quickly realized her strengths were in small animal and exotic medicine. One night, she had a dream there was a veterinary position available in Boise and soon learned from the WSU vet school job placement staff that a clinic there was indeed looking for a veterinarian.
Soon thereafter, Dr. Sessions joined Broadway Veterinary Hospital in Boise, Idaho and she and her husband, Stan, purchased the practice in 1993. In the 24 years she has owned the hospital, its staff has grown from 3 employees to 26. She has been voted Boise Weekly's Best Vet in Boise by popular vote in 2015 and 2016, and also belongs to the AVMA, the IVMA, and is the board president of the Ada County Fish and Game League (a sportsman's conservation group). She enjoys performing exams, dentistry, and treating exotic pets. Dr. Sessions is also an Iditarod sled dog veterinarian, having worked four races to ensure sled dog health and help the animals finish to their full potential.
Dr. Sessions has been married 31 years and her daughter Rebecca is now 26. In her spare time, Dr. Sessions enjoys boating, fishing, camping, cooking, playing with her dogs and cat, spending time with her "husband/business partner/clinic manager and accountant, Stan." Read on for our Q&A with Dr. Sessions.
Why did you decide to become a veterinarian?
When I was nine years old, a feral cat had her kittens in my bedroom. I moved them out to a shed three times but the mama kitty would move them right back under my bed. I watched them grow, develop and became very attached to them by four weeks of age. A piece of furniture fell on them and killed all of the kittens right before my eyes and I was horrified. I was so upset that I decided at that moment at age nine that I was going to be a veterinarian.
What do you enjoy most about being a veterinarian?
I enjoy being a part of the pet and human family, seeing new puppies and new kittens and helping families cope with their new pet. I also swoon when a client thanks me for saving their beloved pet. My mission statement is "Providing compassionate quality care to families and animals because… Broadway Vet loves my pet!"
What makes you unique in your field?
I feel unique in my field because I am what I term as "The Vet For Life." I've been a veterinarian for 27 years, practicing locally in Boise, Idaho for the last 25 years and have a giant group of clients who have come to me for vet care for multiple generations of pets and multiple generations of people. I often give my clients my personal cell phone and have become a big part of thousands of families of Southern Idaho. I decided to offer seven days per week services so that my good clients do not have to go to any of the local ER clinics where they know and trust no one.
Another service we offer at Broadway Vet that I started is home euthanasia for existing clients. Many clients are so upset that if they bring the pet to the clinic, they sometimes can't even drive home due to grief. I go to folks' homes, give a sedative, then euthanize quickly and humanely. I take the pet back to the clinic for cremation if the pet owner doesn't want to home bury. After the euthanasia, we send sympathy cards and a giant bouquet of flowers… no one else I have ever heard of sends flowers in honor of the loss of a beloved pet. Folks talk about this service to me all the time and I honestly think that my huge, unheard-of new client statistic of 100 new clients per month may be due to a simple flower arrangement, honorable home and clinic euthanasias, with word-of-mouth referrals.
What does it mean to you to be nominated for this award?
This means A LOT to me because I feel that I give the best care I can at the best price with the best attitude with the best staff and this award recognizes how hard I strive for Gold Standard and excellence in Veterinary Medicine.
What would you like to say to your clients and community who nominated and voted for you?
I feel lucky to have served the Boise Valley for 25 years and appreciate the support from my clients through four locations, a terrible recession, and now a growth boom. Pets are always important to their owners but the recession was hard on veterinarians to provide excellent care at an affordable price. I think the people that I have called back late at night, the pets that I have stayed late and on weekends for to help, and the extra effort that I always give in practicing veterinary medicine to the best of my ability have recognized and appreciated me. I strive to pass this attitude on to my mentored colleagues and new graduates of vet medicine.
If you win the contest with the most votes, how do you plan to use your $1,000 prize?
We have a fund we call the "Otis Fund." A longterm client had a dog named Otis and when he died, she donated a large sum of money specifically designated for elderly folks or poor folks [who] can't afford care. We never euthanize healthy pets and this fund has been a way of paying for services for relinquished pets that otherwise would not get care or may even be euthanized for financial reasons and I would add this to that fund.
Fun Pet Fact:
Dr. Sessions has a cat named Black Friday, a Bug (Boston terrier/pug mix) named Cheffie, and the fourth German Shorthair in her life, Suicide Joe — so named "because he is a sock eater and I had to remove all of his jejunum due to a foreign body ingestion," she explains. "[Chef and I] are very close, more so than any other dog I've ever owned," says Sessions. "I've noticed that as pet owners get older, they seem to be more bonded with their pets than when they were in their 20s or 30s, raising kids, working a lot, etc."
But that's not to say she doesn't have a soft spot for her other pets. Two years ago on Black Friday, Sessions asked her husband if he wanted to go shopping and he responded jokingly that the only shopping he wanted to do was to go get a black cat at half price for adoption at a local cat shelter. "Later that day, a giant black cat walked in my back door," she recalls. "He was in foster care and had escaped his foster and… he never left. His name is Black Friday and he is a dog-cat. He goes fishing, camping and to our cabin with us and loves Joe and Chef."
If you enjoyed reading about Dr. Sessions, continue to visit our blog, where we will share in-depth Q&A sessions held with the remaining finalists. Learn more about the My Vet's the Best Contest by clicking here. You may vote for Dr. Sessions or any of the other finalists once a day through Thursday, June 15th, 2017 on the Pets Best Facebook page.