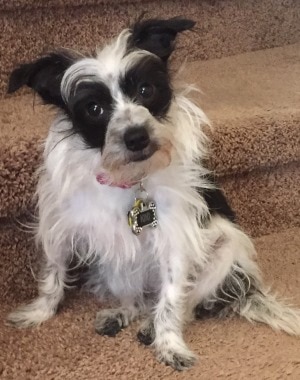 Meet the policyholder whose most recent paid claim, put Pets Best over the $100 million mark and learn why she values pet insurance from Pets Best.
Carly Iannaco and her husband Jon may not have any children of their own, but they're undeniably devoted pet parents to their three small dogs—all of which have benefited from a Pets Best pet health insurance policy.
There's Kiki, the two-year-old miniature schnauzer mix the Iannocos got from a rescue group just last summer; Lemon, the 5-year-old Bichon Frise; and Mazzy, the 17-year-old Chihuahua mix they brought home from the pound when she was only six months old.
Since Pets Best recently hit the $100 million milestone of paid claims to our policyholders, we contacted the Iannacos—the policyholders who put us over the $100 million mark. Pets Best paid $101.70 for Kiki's most recent claim, an "undiagnosed gastrointestinal condition" – a condition some companies won't cover. We asked the Iannacos about their experience with pet insurance. Here is their Pets Best story.
What do you love most about your pets?
Each of our three dogs has its own unique personality. Lemon is a goofy little dog; she's ditsy and very social. As for Kiki, I don't know if it's because she's a rescue, but she's attached to us and gets clingy when we take her to Doggie Daycare. These days, because she's so old, Mazzy spends a lot of time barking at me for food or sleeping. She was pretty active—she used to love to chase squirrels—but now her favorite pastime is sunbathing in her doggy bed by the window. Amongst all three, their unconditional love is the common thread we love the most.
How is the family dynamic between you and your pets?
Wherever we are, the dogs are there, too. My husband works from home, so one is usually on his lap and one is under his feet. They sleep in bed and sit on the couch with us—they're always underfoot.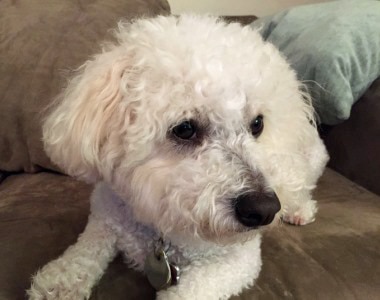 What prompted you to look into pet insurance?
Little things always come when you own pets, and we want the best for them, so it made sense for us to make sure they were protected. I could put $100 a month away into a savings account, but it's difficult to be self-disciplined enough to do that. This way I don't have to worry about putting money aside, but they have the protection they need.
Why did you ultimately decide to purchase pet insurance?
The financial value. Our dogs are a part of the family, so we see it as important as having health insurance for us.
Why did you choose Pets Best?
Mazzy has had pet insurance for most of her life. Around ten years ago, I had another insurance provider, but my vet told me Pets Best had better coverage, so we shopped around and felt that Pets Best offered us the best value.
What do you love about Pets Best?
Pets Best has always been there for our furry friends and have been quick and responsive with our claims. When Mazzy experienced renal failure, my vet was able to provide documentation showing it was a health occurrence unrelated to any other past issues. Pets Best then processed the claim and issued the payment right away. They've always processed claims and payments for us within a week.
What value do you see in pet insurance?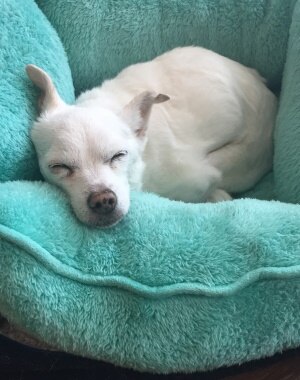 Given the incredibly high cost of vet bills, it's a no-brainer to have insurance. Each of our pets has benefited from it, as they have all had medical bills over the years that would have cost us much more without the insurance.* Even if we didn't have the insurance, we love our pets like family members, so we'd still pay the veterinary bills, but it's nice to be reimbursed.
What are some of the various health issues your pets experienced that were covered by your Pets Best policies?
Most recently, Lemon had a bladder stone, and Mazzy had a corneal ulcer that had to be removed so she could see better. Due to cancer, Mazzy had to have part of her toe and part of her ear removed. She's had congestive heart failure. And recently, she was diagnosed with vestibular syndrome. While it's common with old dogs, it was still scary. The vet treated her and she recovered just fine.
Have your pets had any significant claims paid for?
Our dog Mazzy, being as old as she is, was suffering from kidney failure and needed to be hospitalized. The bill was huge; it was a large claim due to the amount of nights she was in the hospital.** But we can honestly say Pets Best saved her life.
*Editor's note: Since having pet health insurance policies with Pets Best, the total claims paid to the Iannacos amounts to $13,374.
**The highest claim paid by Pets Best for Mazzy's kidney failure amounted to $1,705.76.