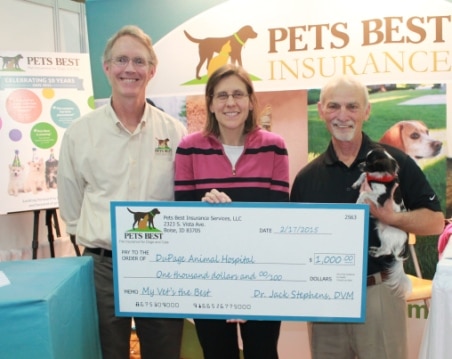 2014 My Vet's the Best grand prize winner recognized for outstanding work
BOISE, Idaho – Pets Best Insurance Services, LLC, a leading U.S. pet health insurance agency, has named Dr. Mary Felt as the nation's best veterinarian of 2014. Dr. Felt, who treats animals at the DuPage Animal Hospital in Villa Park, Illinois, took home the top honors of the 2014 My Vet's the Best contest, which featured more than 20 finalists from across the country.
Developed by Pets Best to recognize outstanding veterinarians who go above and beyond to keep pets healthy, the 2014 contest culminated with a presentation at the Western Veterinary Conference in Las Vegas. During the event, Dr. Jack Stephens, founder and director of Pets Best, announced Dr. Felt as the winner of the coveted 2014 My Vet's the Best title and presented the veterinarian with a check for $1,000 to support her charitable work. Dr. Felt plans to use her $1,000 winnings to help organizations such as Yorkie Rescue and Making Our Pugs Safe (MOPS) Pug Rescue, two groups she works with frequently.
"Veterinarians can make a significant difference in the lives of pets and their owners, and Dr. Felt exemplifies this through her many efforts to help animals in need," Stephens said. "Pets Best is committed to recognizing veterinarians for the time and energy they invest in their work."
Dr. Felt discovered she wanted to be a veterinarian at the age of 6. She is a graduate of the University of Illinois and has practiced veterinary medicine for 20 years. Her interests include internal medicine, and caring for shelter animals.