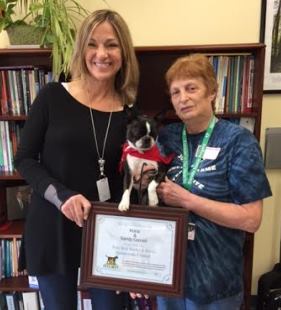 Pets Best hosts inaugural contest to recognize therapy dogs in the classroom
Pets Best Insurance Services, LLC, a leading U.S. pet insurance agency based in Boise, Idaho, announced today a Newtown, Connecticut therapy dog has been selected as the winner of the agency's first Books & Barks contest. Kona, a therapy dog who regularly visits the students of Reed Intermediate School, won the nationwide contest, which was created to recognize and bring awareness to the inspirational work of therapy dogs in classrooms and libraries across the nation.
In its first year, the Books & Barks contest brought in 9,004 votes cast by the community members of eight finalists from across the U.S. The public was able to vote by visiting the Pets Best website, www.petsbest.com, and the company's Facebook page.As part of the contest, Pets Best awarded $1,000 to Reed Intermediate School and $500 to a pet therapy organization selected by Kona's owner and handler.
"Pets Best created the Books & Barks contest in an effort to share the stories of therapy dogs that provide ongoing support and love for children in educational settings," said Dr. Jack Stephens, founder of Pets Best. "Kona's efforts with Newtown students encompass the meaningful impact that therapy dogs have on children every day. We look forward to hearing more stories about helpful therapy dogs as this contest continues for years to come."
Sandy Cornell, Kona's owner and handler, said the 3-year-old Boston terrier has been visiting Reed Intermediate School for more than a year. In 2012, Kona became a certified therapy dog through Therapy Dogs International. Kona received a total of 3,211 online votes during the Books & Barks contest.
"Strangers stop me now and say, 'I voted for Kona. Thank you for doing what the two of you do.' It is truly a fantastic feeling," Cornell said. "Kona's ability to sense what is needed and who needs it most is beyond my understanding. She is unflappable. While I might be fighting back tears, she is doing what she does best, comforting a child."Read More…