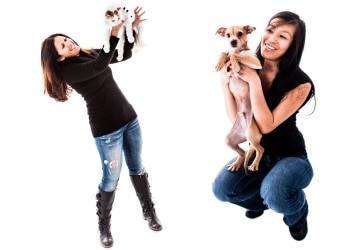 Latest My Vet's the Best contest honors veterinarian duo as winners
Boise, Idaho – Pets Best Insurance Services, LLC, a leading U.S. pet insurance agency based in Boise, Idaho, announced today that veterinarians Drs. Diane Tang and Michelle Zoryan have been voted the most recent winners of the agency's My Vet's the Best contest. The nationwide contest honors veterinarians for outstanding service.
The latest round of the contest brought in 13,630 votes cast from pet owners across the U.S. on the Pets Best website, www.petsbest.com, and on the company's Facebook page.
"We created the My Vet's the Best Contest to bring awareness and appreciation to the country's most exceptional veterinarians," said Dr. Jack Stephens, founder and president of Pets Best. "Giving veterinarians the recognition they deserve is and always will be a top priority for Pets Best."
Drs. Tang and Zoryan, who practice at the Mohawk Alley Animal Hospital in Los Angeles, won the contest after receiving 4,462 online votes. They were among hundreds of veterinarians nominated for the award. As the winners, they received $1,000 from Pets Best to treat animals in need. The pet owner who nominated the winning veterinarians also received $200 from Pets Best.
The contest's other five finalists each received a significant number of votes, with runner-up Dr. Robert Stein from Amherst Small Animal Hospital in Amherst, N.Y., finishing only 162 votes behind the winners.
Drs. Tang and Zoryan are known for donating their free time to help animals in need. The two doctors have fostered a total of six cats and one dog. The veterinarians met while working together at an animal hospital in Glendale, Calif., where Dr. Zoryan mentored Dr. Tang. Their dream of owning their own practice came true when they recently opened the Mohawk Alley Animal Hospital.Read More…