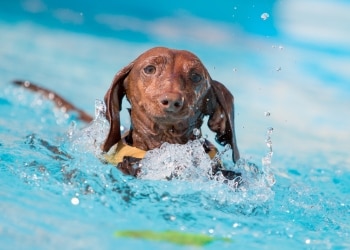 Pets Best urges pet owners to protect animals against heat stroke, hiking injuries and other dangers
BOISE, Idaho – With dogs and cats often exposed to a wide range of elements during the hot summer months, Pets Best Insurance Services, LLC (Pets Best), seeks to raise awareness about common summertime hazards in an effort to help pet owners protect their four-legged family members from painful and potentially deadly mishaps.
Each summer, Pets Best, a leading U.S. pet insurance agency based in Boise, Idaho, processes a significant number of insurance claims related to a variety of veterinary emergencies.
"Dogs and cats are vulnerable to many of the same summertime risks as humans, including heat stroke and accidents from adventuring outdoors," said Dr. Jack Stephens, president and founder of Pets Best. "Emergencies can strike at any time, which is why it is important for pet owners to consider the many benefits of obtaining health insurance for their pets. By offering financial protection against expensive veterinary procedures, pet insurance provides peace of mind to a growing number of pet parents across the nation."
In an effort to help keep dogs and cats safe and healthy this summer, Pets Best has compiled the following list of five summertime hazards for pets.
1. Heat Stroke
Heat stroke occurs when body temperatures rise to dangerous levels and pets are unable to accommodate the excessive heat, leading to organ dysfunction and death in some cases.
Short-nosed breeds have the highest risk of suffering from heat stroke. This includes English bulldogs, pugs, French bulldogs, Boston terriers and Persian cats. Long-haired pets such as Great Pyrenees, chows, Alaskan malamutes and other cold-weather breeds are also at a high risk for overheating.
To prevent dogs and cats from experiencing heat stroke, pet owners should keep their animals in the shade when outdoors, avoid exercising pets in high temperatures, and provide indoor pets with ventilation and cool water. Pet owners should never leave their animals inside cars as the temperature can reach deadly levels within minutes. Pets should be taken to a veterinarian immediately if they experience symptoms of heat stroke, including lethargy, labored breathing and unresponsiveness.
2. Water Safety