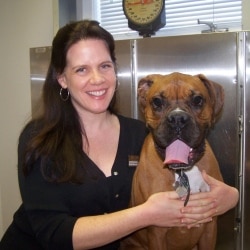 Latest My Vet's the Best contest honors veterinarian Dr. Kathleen Heneghan
BOISE, Idaho – Pets Best Insurance Services, LLC, a leading U.S. pet insurance agency based in Boise, Idaho, announced today that veterinarian Dr. Kathleen Heneghan has been voted the most recent winner of the agency's My Vet's the Best contest. The nationwide contest honors veterinarians for their outstanding service.
The latest round of the contest brought in 8,218 votes cast by pet owners across the U.S. through the Pets Best website, www.petsbest.com, and the company's Facebook page.
"This contest serves to honor veterinarians who play a significant role in keeping pets in their communities healthy," said Dr. Jack Stephens, founder of Pets Best. "Dr. Heneghan strives to provide the highest quality of care for all of the animals she treats, and it is rewarding that so many people want to recognize her hard work and dedication."
Dr. Heneghan, who practices at Elmwood-Grove Animal Hospital in River Grove, Illinois, won the contest after receiving 3,525 online votes. She was among hundreds of veterinarians nominated for the seasonal award. The contest's other seven finalists each received a significant number of votes. Runner-up Dr. Lollie Mensik of Stonebriar Veterinary Centre in Frisco, Texas, had a total of 2,805 votes.
As this round's winner, Dr. Heneghan received $1,000 from Pets Best to treat animals in need. Dr. Heneghan and the team at Elmwood-Grove Animal Hospital plan to use the $1,000 cash prize to contribute to their Needy Animal Fund, a program helping stray animals from two Chicago suburbs. The pet owner who nominated Dr. Heneghan also received $200 from Pets Best.Read More…