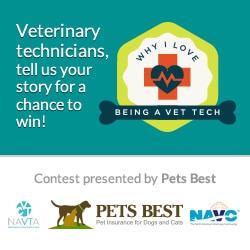 The 2nd annual "Why I Love Being a Vet Tech" contest is now accepting entries
BOISE, Idaho – Pets Best Insurance Services, LLC, (Pets Best) and the National Association of Veterinary Technicians of America (NAVTA) are inviting veterinary technicians to submit essays on what they love about their jobs, with an eventual winner receiving a paid trip to a veterinary conference in Florida.
Pets Best has set dates for the second annual "Why I Love Being a Vet Tech" competition, co-sponsored by NAVTA. Vet techs can enter the contest immediately, but they have until Aug. 21 to submit the short essays.
The essay should explain why the vet tech chose their profession and what they love most about the job. Eight finalists will be selected by a panel of judges from Pets Best and NAVTA. Once the finalists have been chosen, the public may vote for their favorite essay on the Pets Best Facebook page.
Each finalist will receive a one-year NAVTA membership. The finalist with the most votes will be named the winner and will receive a paid trip to the 2016 North American Veterinary Community (NAVC) conference in Orlando, Florida.Read More…