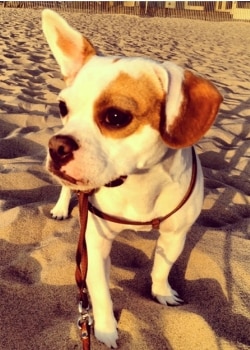 Pet owners share why hybrid dogs are the best of both breeds.
Los Angeles, California (November 10, 2015) – Farmers Insurance®, one of the nation's largest multiline insurer groups, and Pets Best Insurance Services, LLC (Pets Best), a leading U.S. pet insurance brand,  started collaborating together in 2014 to offer savings to those looking to purchase pet insurance for their  cats and dogs. Today, the companies revealed the list of the top five hybrid dog breeds based on a review of the company's database of more than 140,000 dog policies.
Australian Shepherd and Border Collie (Border-Aussie)
Cavalier King Charles Spaniel and French Bulldog (Royal Frenchel)
Border Collie and Whippet (Border Whippets)
Labrador Retriever and Bernese Mountain Dog (Labernese)
German Shepherd and Poodle (Shepadoodle)
Pets Best has 246 dog breeds in the company's database of insured dogs. Of those, the category of hybrid dogs (the offspring of two purebred dogs) represent the third most common dog breed behind Labrador retrievers at number two, and mixed breed (the offspring of two or more different dog breeds where neither the mother nor the father is a registered purebreed dog) at number one. While some hybrid dogs have become mainstream, such as the Labradoodle (a hybrid of the Labrador Retriever and Poodle), there are many hybrid dogs that are still relatively unknown.
Farmers and Pets Best encourage potential pet owners to do their research before adding a pet to the family. A pet's size, temperament, and exercise needs are among the things potential pet owners should consider and be realistic about, to have the best chance at happiness for both the pet and their owners.
"Whether you're insuring a home, vehicle, or adding a new pet to the family, Farmers and Pets Best offer a wide range of benefits and options to help limit the risk of hefty out-of-pocket expenses and help provide coverage for unexpected events for pet owners," said Mariel Devesa, head of product innovation for Farmers Insurance. "We've seen the value that this gives our customers and Pets Best offers a discount of five percent to those who purchase a Pets Best policy after referral from a Farmers agent, or at Farmers.com."
Below are detailed descriptions of the top five hybrid dog breeds from Dr. Eva Evans, Veterinary Advisor for Pets Best. (Editor's Note: Images of each hybrid dog mentioned below are available upon request)
1. Australian Shepherd and Border Collie
Dr. Evans explains that this combination makes for highly intelligent, agile dogs. These individual breeds are known for herding livestock. As a result, these dogs excel at farm work. They require plenty of exercise to run and play and need constant stimulation in order to avoid boredom.
An example of this hybrid is Pets Best member Jackson. His owner Daniel S. of Virginia calls him "The Mayor" because he's always making new friends. Daniel says the 4-year-old dog is a fun-loving social dog. He likes to poke his head inside strollers and kiss babies.
2. Cavalier King Charles Spaniel and French BulldogRead More…