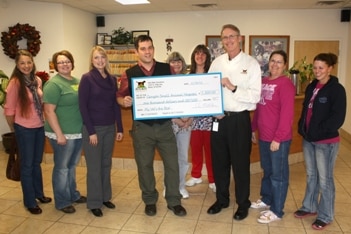 Pet Insurance Agency Pets Best Insurance Names Dr. Brett Bauscher Third-Quarter Winner of 2012 My Vet's the Best Contest
Pets Best Insurance, a leading U.S. pet insurance agency, announces Dr. Brett Bauscher of Caldwell, Idaho based Canyon Small Animal Hospital as its third-quarter winner in the 2012 My Vet's the Best contest.
Boise, Idaho – November 30, 2012- Dr. Brett Bauscher has been selected as the most recent winner of the Pets Best Insurance My Vet's the Best Contest, after receiving a nomination from Hannah Woodward and a winning number of online votes amongst him and five other nominated veterinarians from around the country. The other finalists were Dr. Rene Lefranc of  Columbus, Georgia; Dr. Irvin Ingram of Phoenix, Arizona; Dr. Deanna Tickle of Burlington, N.C.; Dr. Monique Weldon of Centennial, Colorado; and Dr. Glen Roiland of Amityville, N.Y.
Hannah Woodward nominated Dr. Bauscher because of his selfless work on behalf of her dog "Kaya." Kaya had experienced a number of health issues including parvo and a broken femur. Dr. Bauscher's flexibility regarding finances was invaluable for Hannah and her husband, who are a younger couple just getting established.
"We love Kaya like our own kid," says Hannah, "and without Dr. Bauscher, there have been several occasions where we don't know what we would have done, or if she would even still be with us today."Read More…