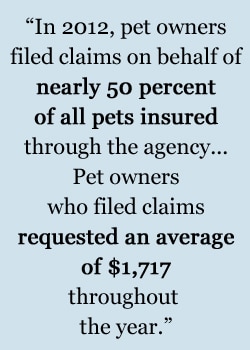 On average, Pets Best Insurance clients file first claims about 2 months after enrolling pets
BOISE, Idaho – In honor of National Pet Health Insurance Month, Pets Best Insurance, a leading U.S. pet insurance agency based in Boise, Idaho, released new data today showing that a significant number of its clients file multiple insurance claims for their pets each year, with many saving hundreds to thousands of dollars in the process. In addition, many clients who enroll their four-legged family members in Pets Best Insurance plans file their first claims within only a few months.
"Just like humans, animals can experience a variety of health problems throughout the year," said Dr. Jack Stephens, president and founder of Pets Best. "Our clients often file claims very quickly after enrolling their pets, yet there are still many people unaware that pet insurance often serves as a simpler and more affordable method of paying for veterinary coverage than simply trying to save money for unexpected out-of-pocket expenses."
The figures released by Pets Best Insurance indicate many pet owners file claims soon after obtaining coverage. The average age of a pet at enrollment with Pets Best is 3.45 years, and the average first claim is filed within approximately two months.
Pets Best reports that in 2012, pet owners filed claims on behalf of nearly 50 percent of all pets insured through the agency. Among those pets, Pets Best received an average of 4.75 claims per pet in 2012. Pet owners who filed claims requested an average of $1,717 throughout the year.Read More…